Tuesday evening, students gathered to be informed, to be persuaded and to provide support for their peers during the C. Henry Smith Peace Oratorical Contest.
Speakers included Martin Hofkamp, who spoke about juveniles in adult prisons; Lauren Treiber, who made a case for faith-based feminism; Alma Rosa Carrillo Flores, who shared about the femicides of Ciudad Juarez laborers; Natasha Weisenbeck, who was looking to save Africa from the media through collaboration; and Abby Deaton who expounded upon Goshen College's hiring policy.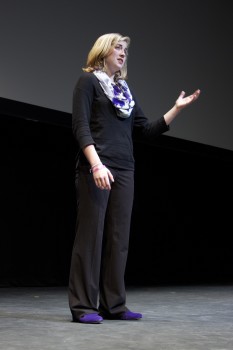 Winner Abby Deaton
Deaton won first place and a prize of $500, moving forward to represent Goshen College in the bi-national contest.
In her speech, Deaton spoke about creating an open space for discussion in relation to the Goshen College hiring policy, which currently prohibits hiring of LGBTQ faculty. Deaton encouraged the audience to join her in "asking for courage to no longer see sides, to speak honestly, to listen earnestly, to be compassionate peace makers, and to invite everyone to the welcome table."
Hofkamp took home second place and a $250 prize for his speech based on his experiences with working with juveniles in the Elkhart County jails. He was encouraged by a professor to participate in the contest and was moved to share his experiences within a larger context.
If Hofkamp could leave the audience with one thing from his speech, he hopes that "they understand that [juveniles in adult jails] is both a systemic and a local problem and that there are tangible things they can do to help fix the situation."
"[Juveniles] are human beings trapped in concrete cages," said Hofkamp, who was moved to tears during his speech.
There was a panel of three judges consisting of Cindy Voth, Melissa Kinsey and Jameson Lingl. Both Lingl and Voth were participants in the contest in the past. Judging criteria included adherence to the theme of peace and justice, form of speech, content, vocal quality, physical movements, eye contact and audience engagement.
The C. Henry Smith Peach Oratorical Contest was established in 1995 to honor Smith's life, scholarship and dedication to communication. The contest is sponsored in part by Mennonite Central Committee and Hans J. and Bonnie Hillerbrand.