Recently two Goshen College students, David Leaman-Miller and Tony Miller, have made some major connections outside of school.
David Leaman-Miller was asked by the Louisville Sluggers if the team could possibly use his video on their social media site. Tony Miller has been working on compiling valuable sports information that may one day be published.
Leaman-Miller, first year, of Denver, Colo., created his sought after film, "Louisville Slugger Commercial," as a project for his advanced digital media production class.
Said Leaman-Miller, "I have been interested in film ever since I got a video camera for Christmas when I was five or six years old, and I have been making movies ever since, and the production quality of my videos has been steadily rising."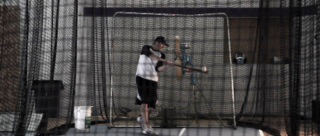 Leaman-Miller was self-taught until he started at GC. Now he has a more formal education for film and access to professional equipment, which allow him to create videos with better production quality than his early work.
The criteria for the class assignment was to create a 30 second commercial for any company or organization, so Leaman-Miller chose the Louisville Sluggers. "I have been playing baseball for as long as I could walk, so I wanted to create the type of video that I would want to watch," he said.
The video took 8 hours to create. The process included a combination of writing and planning, actually filming the video and editing the final product. Leaman-Miller was very pleased with the outcome and he decided to send it to the Sluggers to see what they thought.
"I wasn't really expecting a reply, but I figured that I had nothing to lose," said Leaman-Miller. He was contacted the next day and the Sluggers asked if they could use it as advertisement on their social media sites. The Sluggers don't have televised advertisements.
Although they haven't posted the video on their social media sites yet, when they do, Leaman-Miller will be notified. In the meantime, Leaman-Miller's video can be found on YouTube.
Tony Miller, a senior broadcasting major who also works for the Globe, spent last spring as the play-by-play announcer at Regional Radio Sports Network (RRSN) in Mishawaka. During this time he also worked for the Indiana Football Digest, which is an annual statewide high school football preview.
Miller began compiling data from the website 506.com and the Society for American Baseball Research after he became a member of both after his first year at GC. Miller said that he began collecting data when he realized there was no qualitative analysis on it, such as "How many times had each team aired?" and "Which network did the most games?"
"I wanted those numbers, and since I have an irrational fascination with Microsoft Excel, putting them into a spreadsheet seemed like the right thing to do," said Miller.
After Miller finished baseball, he moved on to football, which ended up being pushed to the side when another research topic grasped his fascination. Miller began working on compiling the broadcast history of the NBA, and this project is now his main focus.
Miller will be continuing as an editor, researcher and writer for the RRSN after graduating this spring.