The Communications Department has selected new editors-in-chief for the Record. Grace Weaver, a junior English major, will oversee the fall term, while journalism majors Luis Perez Lerchundi, a junior, and Seth Wesman, a sophomore, will co-edit during the spring semester.
Weaver began her journey with the Record as a copy editor and then became an associate editor. She was drawn to the job by the process of representing events and the mechanics of publishing a paper. Being editor-in-chief will serve as her senior English project.
"I am so excited. I love the bustle of the newsroom the day that the paper comes out. I'm really interested in editing and publishing, so it's right up my alley," Weaver said.
Weaver's English involvements this year include serving on the Pinchpenny Board and doing a library science internship at the Good Library under Fritz Hartman.
"I'm really excited to put the staff together. We've also done some talking about ways that we can be more creative with the way we publish information," she said.
Perez Lerchundi and Wesman are current co-editors of the sports page. Because they work well together, they applied to continue the relationship as editors-in-chief. Both have a passion for sports journalism.
"I'm pretty excited. It should be challenging, but also fun and an interesting experience," said Wesman. "It'll be cool to get a bigger understanding about the other parts of the paper since I've only been working with sports so far."
He previously served as editor for his school newspaper at Central Christian in Ohio, which helped him make the decision to major in journalism at Goshen. Wesman enjoys working with Duane Stoltzfus, a communications professor who will resume his Record advising responsibilities next year after returning from leading SST in Peru.
Perez Lerchundi has always loved newspapers and journalism, and has fueled his desire to be Record editor. As a child, he read the newspaper every day.
"I decided to be a journalist when I was five. I told my mom and she laughed. Who was going to pay attention to a five-year-old?" he explained. However, he didn't give up on his dream, and joined the Record staff his first year at Goshen.
"I love interviews with people. I love to link people's stories together," Perez Lerchundi said. Of newspapers, he lamented, "It makes me sad when people say newspapers are dying because of new technologies. There is nothing more satisfying than reading the newspaper every day for me. It makes you learn and become a more complete person."
Though he planned to graduate in December 2015, when he discovered he would be editor, he decided to stay.
"I'm excited about trying to make the Record more like the people's newspaper," he said. Perez Lerchundi has researched other college newspapers in preparation for his upcoming editing.
"I'm really thankful for this opportunity and the people that made it possible and to keep learning for my future. Goshen College has given me a lot of things in life and this one is amazing," he said.
Kayla Riportella, the current editor-in-chief of the Record, is also very excited to see what Weaver, Wesman, and Perez Lerchundi will bring to the Record next year.
"All three of next year's editors are very talented and love what they do," she said. "They will do a phenomenal job!"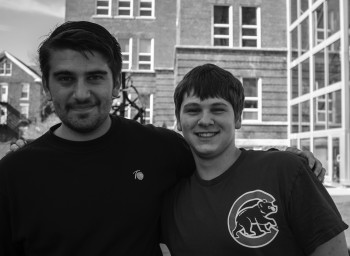 Journalism majors Luis Perez Lerchundi, a junior, and Seth Wesman, a sophomore, will co-edit the Record in the spring.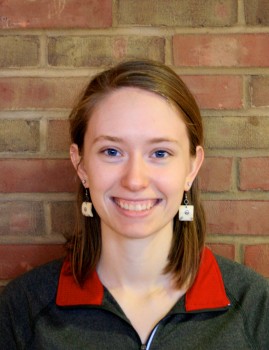 Grace Weaver, a junior English major and Art minor from Harrisonburg, Virginia, will edit the Record in the fall.