Today, the small island in the middle of the Goshen Dam Pond may not look like much ‒ three and a half acres of trees, bushes and birds' nests ‒ but in the early 1900s, it was a bustling hub of activity, home to a skating rink, theater and shooting gallery. The history of this island, known as Blosser's Island, is the subject of two Goshen College film students' new mini-documentary: "Blosser's Park: The Social Gathering Place of Goshen." 
Courtney Templeton, a junior film production major, and Jackson Steinmetz, a junior film production and communication major, began working on the documentary this past summer through Goshen College's Maple Scholars program, an eight-week intensive in which students work with a faculty advisor to complete a final project. 
"We're kind of shedding light on a story that, if we had waited any longer, might not have been told," Templeton said. 
The documentary tells the story of Blosser's Park, a park that opened on Blosser's Island in 1909. With a ferry, beaches, picnic grounds and other features, the park attracted crowds from across northern Indiana until its closing in the 1940s. Today, it is uninhabited and overgrown, with nothing but remnants of concrete foundations to show that the park ever existed.
"Blosser's Park: The Social Gathering Place of Goshen" was inspired by an idea from Kyle Hufford, associate professor of communication and Templeton and Steinmetz's faculty advisor. Hufford is also credited as the executive producer of the documentary.
"We were shooting an interview for our last documentary … at the Goshen Historical Society museum," Hufford said, "and I noticed a display that was dedicated to Blosser's Park. I asked one of the historians about it and was really shocked that this island that I drive by everyday once was a mini Coney Island kinda place. I thought it would be the perfect subject for a project some day."
Hufford suggested the project to Templeton and Steinmetz in their first Maple Scholars meeting. 
"He brought us a couple ideas," Jackson said. "I think Court and I both heard him say 'Blosser's Park' ‒ he didn't know much about it except that they used to have a skating rink and a ferry boat that would go out there ‒ and we were both like, 'Wait; in the Dam Pond?'" 
Templeton and Steinmetz were surprised to learn that the island had once been a park and community gathering space. Interest piqued, they enlisted the help of the Goshen Historical Society to begin researching the history of Blosser's Island. 
"One of our first steps was emails ‒ a lot of emails," Templeton said. "It felt like we were kind of in a rut for the first couple weeks, just emailing so many people, and then finally meeting with … the Historical Society and getting some background information and getting some contacts we could reach out [to]."
After making a list of names of people who had been to Blosser's Park when it was in operation, Templeton and Steinmetz began scheduling interviews.
"More importantly than the research was finding people who actually had firsthand stories, because we really wanted to bring the human part of it to life," Steinmetz said. "Because, while all the details are important … what we really wanted to focus on was the experiences that people had there."
Templeton and Steinmetz conducted roughly 20 interviews for the documentary, but only ended up including around six in the final version (although all interviewees were listed in the final credits). 
"Everybody that we talked to provided us with some helpful information that either led us to more people or helped us shape the doc," Steinmetz said. 
The two filmmakers also made time to visit Blosser's Island on two occasions.
"The first time, we took kayaks over there," Steinmetz said, "just to explore it for ourselves. The second time was with Todd and Kathleen Yoder … they took us with our film equipment over on a small pontoon boat. So we actually lugged a bunch of film equipment around the thickets of the island. That was actually physically exhausting."
Templeton said, "It was definitely a challenge. I remember the branches were scraping me, and we were both worried about poison ivy."
Templeton and Steinmetz also obtained aerial footage through a drone shoot, with Hufford as the drone operator. 
Finally, the two filmmakers began editing the bits and pieces of their final project together ‒ interviews, footage and voiceover. 
Templeton remembers the "painstaking process of transcribing each interview" particularly clearly. 
"Another thing I remember," she said, "is me and Jackson writing the voiceover ‒ the narration ‒ which was read by Regina Shands Stoltzfus and Paul Keim. And I was looking back at that, and some of the voiceover that we wrote we never used … but it was still helpful to have that."
At the end of the eight weeks of the Maple Scholars program, Templeton and Steinmetz sent the
first full draft of the documentary to Hufford for comments ‒ and then took a break.
"After Maple Scholars ended," Templeton said, "the summer was kind of a chance for us both to breathe away from it … to take time away from it and kind of distance ourselves from it so we could come back to it with fresh eyes."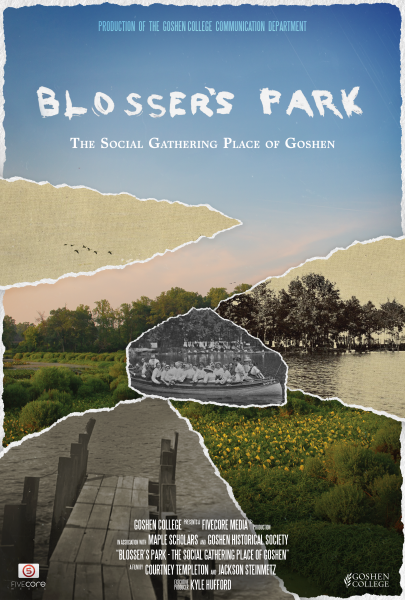 The two filmmakers resumed their revision process for the documentary at the beginning of the fall semester, making changes to music and color grading.
"Over the past couple months now," Templeton said, "we've been working on getting it to a point where we can present it and it can be something we're really proud to put our names on." 
Their work will pay off this Friday with the official premiere of "Blosser's Park: The Social Gathering Place of Goshen." 
"I really enjoyed the whole summer working on [the documentary]," Steinmetz said. "One of my personal takeaways was just a really strong sense of engagement in what I was doing and feeling like the choice of major that I have and this potential career path would be really good for me."
Templeton was excited to see her name in the writer, producer and director credits. 
"Having that ownership of a project and being really proud of my work was the most rewarding part of it all," she said.
"If you're ever passing over the bridge on Kercher Road," Steinmetz said, "and you look to the north … you will be able to see Blosser's Island. And when you see the documentary, you'll realize ‒ wow, there's a place out there."
The showing of "Blosser's Park: The Social Gathering Place of Goshen" is free to the public and will begin at 7 p.m. on Friday at the Goshen Theater. The runtime is 14 minutes, followed by a talkback session with the filmmakers and Ron Hoke of the Goshen Historical Society.
You can find the trailer and more at https://www.fivecoremedia.com/blosserspark/.