There's always miscellaneous beeping at a gas station. There's the beep of the scanner, with its pitch rising every once in a while; the signature "ding dong" whenever someone steps inside; the aggressive pulsation of the credit card machine, lest you forget to grab your card. 
Change rattles around in the cash register while the cashier grabs 37 cents.
"I've worked here for almost 3 years — at first people were like, doesn't it scare you to work there at night, with crazy people coming around? It's actually the most rewarding job I've ever had."
That's the cashier — Betsy. She works the 8 p.m. to 4 a.m. shift at the gas station on the corner of Main Street and W Jackson Street.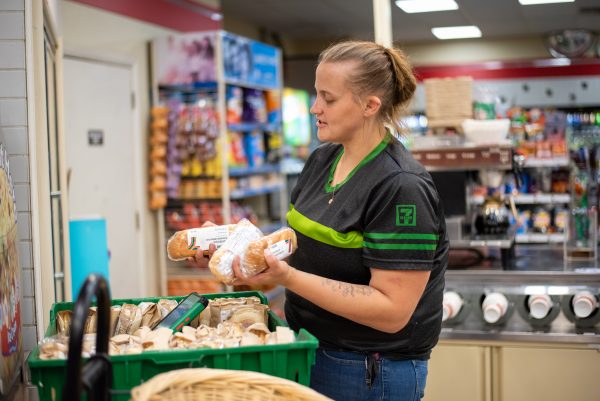 Tyson Miller//The Record
The late-night scene at a gas station is more bustling than one might imagine. Betsy's shift, while grueling, lends itself to a consistent clientele of area college students and community members. Betsy's six night per week availability renders her a silent pillar of Goshen, one of the only people in the area you can guarantee yourself a conversation with at almost any hour of the night.
"I try to be there for all my customers," she says. "They're not just customers to me; they become like friends and family."
"We're friends, yeah," a customer chimes in.
"He's known me since I started here."
"I'm here every night."
Conversation follows about the strange look of a Sprite two-liter, with a new clear bottle replacing the classic green one.
Working at a gas station comes with a fair share of the ridiculous.
"I see a lot of craziness outside," Betsy says. "I've seen fights break out. I see people pulling knives out. There was one night where there was a line of people, and there was this guy standing outside changing from jean shorts into basketball shorts. When he was changing, I looked out of the corner of my eye, and all you can see are his buttcheeks and the door."
Betsy, in her work, develops relationships with many needy and struggling people.
"Some of the people that come in here tell me I'm the only consistent thing they have in their life," she said. "They go through craziness, but when they come in here, they get away."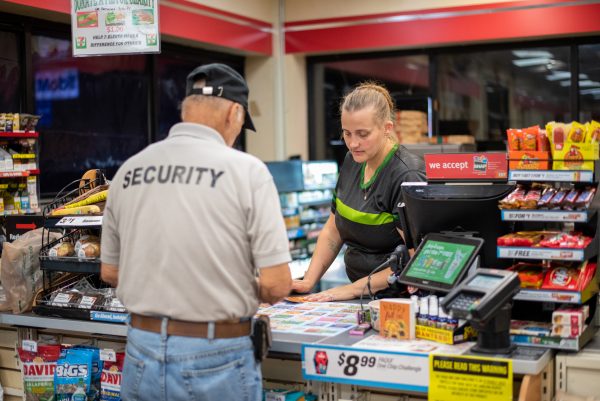 Tyson Miller//The Record
This kind of work, while unheralded, can be painful.
"I've had some people overdose and die. It's heartbreaking sometimes."
How does she maintain a positive outlook?
"My customers are what keep me coming back. My grandma always taught me that as long as you can put a smile on one person's face, you're making a difference. That little time you have with each person, you learn about every one of them."
Slurpees, pizza, energy drinks, coffee and rolling grill delicacies are among the most commonly purchased items.
"I put them on there and they're ready in about twenty minutes," she says of the rolling grill. "Taquitos and hot dogs; people eat them like crazy."
A group of Goshen College students walks in, interrupting the interview. A beeline for the grill ensues.
"See, I told you. They all go for the rollers," Betsy says.
"I need so many of these," Andrew Ness, a senior history and sustainable food systems major, says from the side of the store. "It's taquito time."
Betsy chuckles.
"$12.72."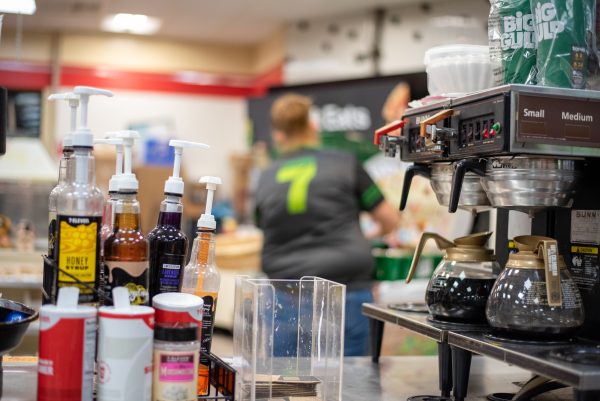 Tyson Miller//The Record