This Martin Luther King Jr. Day, Goshen College hosted the first annual King Celebration "Voices in the Movement" arts competition. Separated into multiple artistic categories, including writing or spoken word, film, music, and visual art, Goshen College students and Elkhart County High School students were asked to demonstrate high artistry while addressing themes embedded in Dr. King's vision. 
Students were split into two tracks. The first, entitled "Descendants of Dr. King," was a category created to highlight the experiences of students from the Black community. The second, entitled "Allies of Dr. King," was for students outside of the Black community who still wished to voice their support. 
Goshen College senior Gloria Bontrager-Thomas and sophomore Jakyra Green won awards in the former track. Goshen freshman Karmen Campos, sophomores Mariela Esparza and Anastasia Stevens, senior Priscilla Tanujaya, and Bethany Christian High School senior Helen Stoy won awards in the latter.
Bontrager-Thomas was presented with the competition's grand prize for her collage collection, entitled "An Ode to Blackness."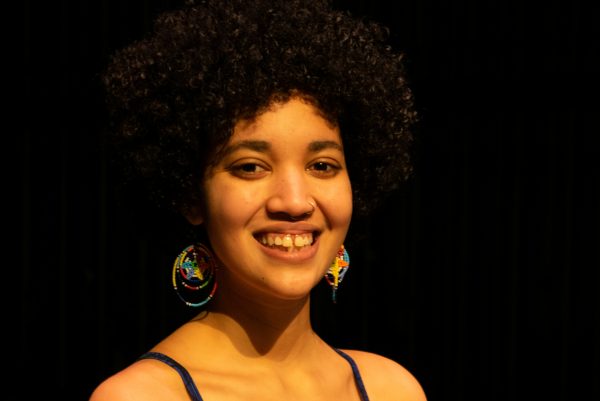 "I began this work as a theater project a little over a year ago, as a response to the lack of Black stories in the theater industry," she said in her artist statement. "During that time, I interviewed several African American families and friends about their experiences in a Black body and around systemic racism."  
She continued, "The collage collection is the first draft of the play, which I am currently developing to be my senior theater recital…This piece is something I am very proud of, and I can't wait to share it and the stage with my community."
Green's spoken-word collection, entitled "Wishful Worries, White Walls, and These Experiences are Not Illusions," won first prize in the category "Voices of the Movement."
"I just kinda took my Black experience, so me as a Black sister, as a Black student, and then…tackling the bigger issue of racism in America," she said.
In the first three pieces, Green tells us of her experience as a Black woman – the joy of family life and childhood, but the looming fears of racial profiling.
At one point, she says: "I wish police officers who placed us in a confined box would see what I see. I wish they heard the barks of our first dog and the scattered giggles that filled the house's crevices."
Later, Green addresses white people, challenging them to discuss and address racial inequality.
"While most white Americans say they feel uncomfortable discussing racial issues, I feel uncomfortable being racially profiled."
What does Green want to see change?
"White people doing the work, especially at Goshen College, a predominantly white institution," she said, "There have been a lot of experiences I've faced on campus with racism, and I've only been here a year, and so have my friends. For a campus that's so progressive, I would like to see more things done."