On the same day GC students began their classes for the semester, many students, including myself, went to the Kennedy Center American College Theater Festival at the University of Michigan-Flint. A five-day event, the festival is a giant celebration of theater with college students, working professionals and casting organizations gathering from across the Midwest.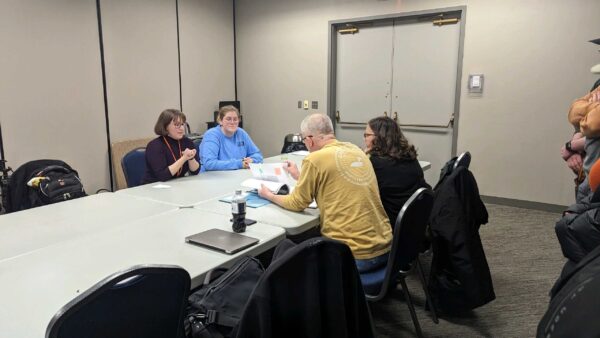 The festival included workshops such as "Acting Through The Microphone" and "Consent In A Knife Fight." A challenge of the festival was not being able to attend everything, so one had to plan out their day very carefully. 
We also saw many incredible performances and captivating live theater, such as a staged reading of Dominique Morisseau's "Detroit '67" and "The Birds" by Conor McPherson, an adaptation of the Alfred Hitchcock story. Other incredible shows like "Revolt, She Said. Revolt Again" and "Memento Mori: A Meditation" filled our days. 
Dontaye Albert, a theater major, reflected on his time at the festival in Flint, saying, "I hung out with a bunch of theater people, which is something I don't usually get to do. It's funny how we all think the same, even though we all are different."
Among the group that went to the festival, many were not theater majors. Daniel Stoltzfus, a junior criminal justice and restorative justice major, said his favorite part was "probably the plays 'Detroit' and 'The Birds.'" Stoltzfus added that "hanging out with my friends from Goshen was so fun."
Rooming arrangements were snug: 16 people were packed into three apartments in Flint directly above the conference center. Still, attendees had much to look forward to each day with new shows and networking opportunities as well as a look into what the real world of acting or technical design can be like.
A few students participated in the Irene Ryan's acting scholarship competition. Albert and Irish Cortez, a sophomore theater major, both made it to the semi-finals, chosen out of over 170 performers. 
"I didn't really have any expectations going in," Cortez said. "I was self-nominated. … When they said I was a semi-finalist, I was [shocked]. You know, out of all the people that submitted, I didn't really think that I would be chosen because they didn't see me in action." 
Cortez also said that participating in the competition empowered her. 
"It kind of made me feel like I can do things like I am capable of doing this, doing anything. I was successful in what I love."