On April 27 in the Umble Center, there will be a presentation of two senior capstone films, both written, directed and produced by senior film production and writing major Court Templeton. 
The first of the two is titled "Semangat: Into the Unknown," following the stories of the Indonesia Study Service Term (SST) group that traveled to Philadelphia before traveling abroad in the spring semester of 2022. It is the capstone project for her SST trip. 
The second is titled "Sanctuary," and is a horror film that follows the story of a girl that has been taking shelter in her home as a zombie pandemic has taken over the world. She faces the decision to continue to take shelter, or find a better life outside of her home. The film is the capstone project for her film production major.
The process for the films being presented is one that has taken months to prepare for. Templeton spent two months filming in Indonesia in 2022, but took a step back before returning to prepare for the premiere of the film. 
"One of the challenges I faced was having so much footage," stated Templeton. "Narrowing down the footage to tell a cohesive story about SST was difficult. There are some great interviews from people that won't be in the movie."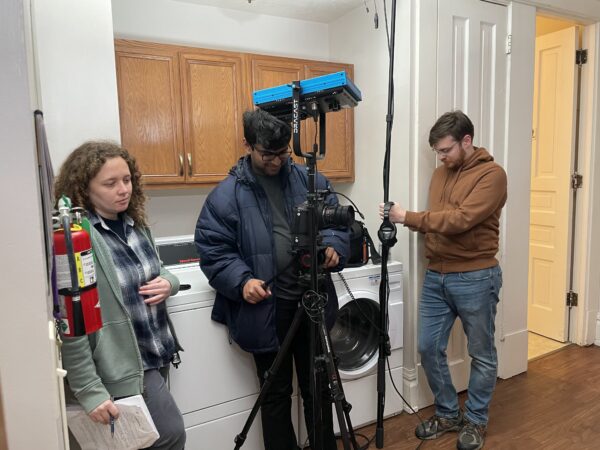 Court Templeton, Silas Immanuel and Jeremiah Sherrill (left to right) on set. Contributed by Court Templeton
Overall, the process has been positive. "It was awesome to film on SST," Templeton explained.
"My service project in Indonesia was to make a documentary, so I got the chance to travel to multiple different islands. I saw all of the different cultures, and it was probably the coolest thing I've done in my life." 
For "Sanctuary," Templeton had to budget, schedule, script, cast, find a location and find people that were able to help out with the film beginning last semester. It took around a month to film the project, and after that the process of post production spanned many weeks, mainly including  everything that she had shot for the film. 
"This was a project that needed help from a lot of people, and finding times that worked for all of us could be tricky sometimes," said Templeton.
"I was able to find help," she continued. "Silas Immanuel and Sarah Lopez Ramirez helped with the cinematography, and they're both incredibly talented. Fatima Rhana and Beth Bontrager helped out with acting and they were both amazing. Robin Lambert did makeup, and a few others as well.
"I think my favorite part was seeing all of these people's talents come together to create a really cool final product that was originally my idea…I'm really appreciative of everybody's hard work on it."
With the premiere coming up, there is a range of emotions for Templeton. "I'm nervous, but excited overall," she said. "I am still making some final changes to ["Sanctuary"] and I want it to be really good. On the other hand, I really enjoy presenting my work to people and I really hope that people enjoy the movie and have a good time with it."
The films will premiere at 7 p.m. in the Umble Center on April 27. The viewing is free to the public. 
A director's note is that "Sanctuary" includes zombies and gore.