As the first spring mainstage with a live audience since before the COVID-19 pandemic in 2020, "The 25th Annual Putnam County Spelling Bee" sets the bar up high for all future musical shows at Goshen College. 
The show opened in the Umble Theater with an enthusiastic judge, a pining vice principal, a parolee, and six young spelling bee contestants (alongside four pre-selected audience participants). "The 25th Annual Putnam County Spelling Bee" is a wild ride from start to finish — the script is full of witty banter, relatable characters dealing with difficult life situations, and ridiculous song breaks.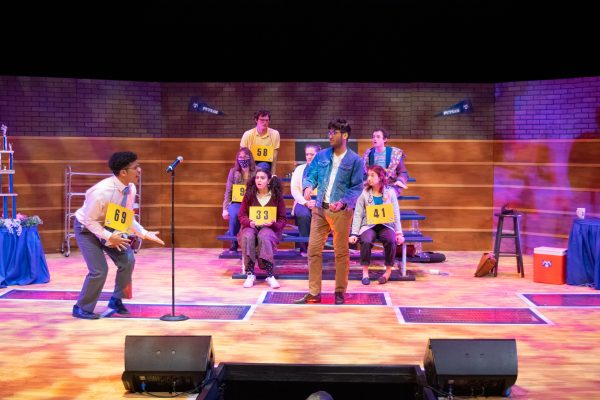 The tone of the musical ranges widely from comedic to entirely serious, sometimes flipping within that range in only moments. Somehow, despite the chaos of certain scenes, all of the emotions being portrayed make sense, and the serious moments bring the focus back down to the deeper morals of the show. While the show can seem like it will be family friendly, there are certainly some moments where one hopes the jokes won't make sense to any children in the audience. 
From the beginning, you can tell that all those who worked on setting up the show had a deep passion for it. The beautifully designed set is open to the entire audience, letting everyone enjoy the entire view. 
Not only are the character choices deliberate and well executed, but the lighting choices also help move the story along in a startlingly simple — yet effective — way. They go from blue during more serious moments to a deep red whenever the dreaded buzzer rings out.
Staging and lighting aside, all of the cast members show a great understanding of their characters.
Of course, the "magic foot" of William Barfée, played by Philip Witmer-Rich, needs to be highlighted as a truly show-stopping element of the play, as do the impulsive but relatable wild rants of Leaf Coneybear, played by Benjamin Reichenbach.
The cast is full of strong vocal talents that are emphasized by the intimately small number of cast members. Audience members were left during the intermission murmuring praises for the talents of Augusta Nafziger, who plays Rona Lisa Peretti, and Fatima Zahara, who plays Olive Ostrovsky.
This is a show that was obviously produced by people who care about it and that alone made it a truly great experience. There are two more performances, on April 1 at 7:30 p.m. and April 3 at 2:30 p.m., and I would highly recommend taking the time to go watch it.