Goshen's One Act plays will open this Friday with the recurring theme of "think-for-yourself." The plays will be performed throughout Homecoming weekend; on Friday at 8 p.m., Saturday at 4 p.m., and Sunday at 2 p.m. in the Umble Center.
The One Acts are just what they sound like–single acts of a show–and they are usually student directed. They provide an opportunity for students to practice theater techniques outside of a classroom and they allow students not acting in a main stage play to be cast in larger roles.
"Trifles," the first play, is written by Susan Glaspell and will be directed by senior Sarah Noah. The drama features a 1900s farmhouse murder investigation based on a true story. When the men involved in the investigation decide that the tiny "kitchen troubles" of the women are not significant, the women join together and realize that when they think for themselves, they can truly have a say in solving the case. The cast includes first-year Justin Yoder, junior Kristina Mast, first-year Clare Maxwell, junior Josh Hofer, and first-year Jeff Moore.
"The Still Alarm," the second play, is written by George S. Kauffman and will be directed by junior Laura Nimigan. The play is about a hotel that is on fire, but the guests do not respond accordingly, ignoring the urgency of the situation. The play turns into a comedy that reflects an emergency-situation in which people don't think for themselves. The cast includes sophomore Jacob Landis-Eigsti , first-year Justin Yoder, junior Lucas Nafziger, first-year Nate Vader, and junior Josh Hofer.
"Achilles' Heel," the final play, is written and directed by junior Patrick Ressler. It is a comical musical scene in which two high school seniors have very different viewpoints on their first romance as second graders. The scene hints that it is necessary to think through the eyes of another in order to think for oneself. The cast includes junior Adriel Santiago and junior Allison Yoder.
The total performance will last about an hour without an intermission. Tickets cost $3 and can be bought by calling (574) 535-7566 in advance. There will also be tickets at the door for each performance 45 minutes before the show begins.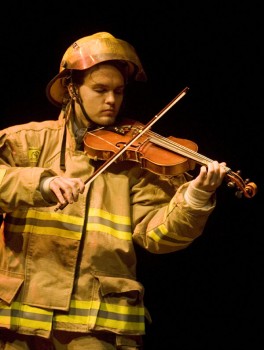 Josh Hofer plays a quiet yet comical firefighter in the second one act, The Still Alarm. Photo by Emily Miller.