A group of female-identifying individuals performed in the eighth annual Goshen Monologues on Saturday. Beginning in 2014, this performance, which has become a tradition at Goshen College, is meant to put forward stories written by female-identifying and queer students and performed by their peers. 
This year, over 20 students from a variety of majors and backgrounds performed in Monologues, presenting pieces about a variety of topics.
The performance was held in the Church-Chapel, which was decorated with simple but elegant scarves.
After the introduction, a variety of pieces were performed. Some were lighthearted in themes, such as the piece "Don't Talk to Her," performed by Greta Lapp Klassen, Josie Strader and Elise Jantz, which was an argument inside the mind of someone with a crush.
Other pieces featured gut-wrenching stories like "I Had Drinks with a Rapist," performed by Mariah Kaufman, which detailed the experience of someone who was struggling to act normal after the assault of their friend. 
The cast of Goshen Monologues was devoted to creating a welcoming and encouraging environment with one another.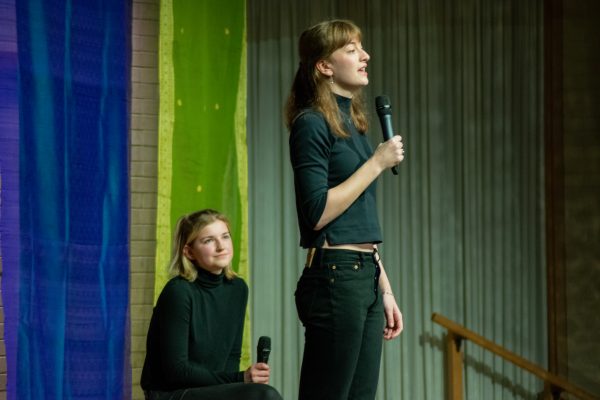 Madeline Bollinger, a first year elementary education major, described activities that the group would participate in to bring them all together. "One day we just colored our days, or we just drew little pictures of what happened during the day and then went around and everybody shared. We share a significant amount and so you know what people's names are and you get to know them pretty well." 
Although the experience is about telling stories, a lot of what makes Monologues memorable is the people. Haley Kirkton, a fourth year social work major, said, "There's people from every year and so I feel like each year I have met people who I wouldn't have talked to or even know, necessarily."
Since these stories sometimes include triggering information, the cast had ways of digesting and understanding the subject material. Bollinger said: "We would practice in small groups with other people. We would get to process those stories and sometimes sit back for a second and say, 'Woah.'"
Kirkton added, "I think it's a powerful way to tell people's stories who can't necessarily tell them for themselves."
Next year will be Goshen Monologues' ninth annual performance.
"I would just encourage people to submit monologues," Bollinger said. "If you have an ounce of interest in it, either write or be in it."