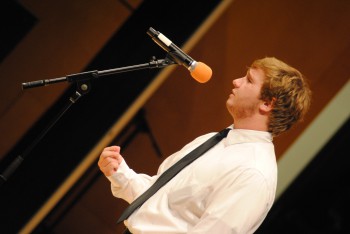 Photo by Hannah Bartel
Beginning with President Jim Brenneman and the rest of the president's council dancing to the viral song "Gangnam Style," and finishing with Billy Funk, a senior, and Sam Weaver, a sophomore, doing a tap dance, this semester's kick-off was filled with talent. Martin Flowers, a first-year, made his GC debut by showing his incredible vocal range in Queen's "Somebody to Love," earning him first place. Ammon Allen-Docout, a first-year, won second place for his original poetry. Funk and Weaver came in third place.
Lizzy Diaz, a senior who participated in the opening dance number, said about Flowers, "I think all of the acts were really well done but I think that the first place winner definitely got what he deserved! 'Somebody to Love' is a classical favorite and he killed it!"
The opening number proved to be a crowd favorite this year, "I was in awe of Martin Flowers, but honestly nothing can beat the president's council doing Gangnam Style. It was a perfect way to start the show off!" said Emma Caskey, a first-year.
Other popular acts were Moral Circus featuring Lauren Treiber, Phil Scott and Henry Stewart, all juniors, who performed the first act of the night with an original song; and Stefan and Anika Baumgartner's rendition of "Not Over You" by Gavin DeGraw.