For most people, this Kick Off was different.
"More polished," said some. "Nicer," said others.
Maybe it was the Campus Activity Council's $5 admission fee for all attendees, with proceeds from the evening going to Habitat for Humanity. According to Katie Dwyer-Zeman, Goshen College has laid plans for further interaction with and support for Habitat projects as the semester continues.
This semester, CAC introduced a unique innovation for the Kick Off performers: each group had to produce a six-second "Vine" video that would act as an introduction to their performance. The audience enjoyed these videos between acts, in contrast to last semester's quiz-bowl themed show.
It started with a bang. Twenty-one bangs, actually, as Christina and the Firearms ripped into the Green Day song "Twenty-one Guns," setting the night off to a good start.
Some of the memorable acts were: Sharknado, a dance trio; In Folk the Establishment, who gave us a great performance despite the absence of one of their members; and this semester's first place winners, Trip to the 80's, who took many of us back to times before we were born.
But for many, the highlight of the night came right before intermission, when Landon Slabaugh sang his proposal to Emily Gibbs during a performance by the Romantics, a male quartet.
Kick Off would not be the same without a rap number, and Go Getters Entertainment rose to the occasion. The Mash-Ups sang themselves to third prize. After that came yet another dance number, "Dark Horse," whose moves stole the judges' hearts, earning them second prize.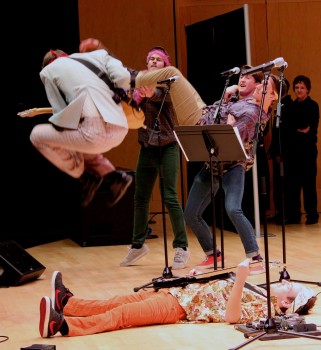 Ryan Smith shared one of Ed Sheeran's latest hits, "Give Me Love." The show closed with a number from Moral Circus, the award-winning student band. They will be saying farewell to Goshen College this semester.
Overall, it was a good night, and a great way to start the spring semester.