Take a second and close your eyes.
You are sitting on a plush cushion, completely relaxed as you are hugged by the well-worn couch.
The lights are dim, and you feel safe. Beyond the windows roams the frightening cold of the night. The air is warm as you hold a hot mug of coffee in your hand. 
However, we should pause there, noting that we do not discriminate against our cold coffee drinkers — yet, for the purpose of this dramatic, overtly drawn-out and rather magnified narration, a cold coffee just doesn't quite fit the vibe.
We must also account for our (controversial) non-coffee drinkers, as they are still welcome to imagine the scene with a hot cup of cocoa or piping hot tea in hand.  
On Sunday evening, Java Junction, Goshen College's student-run cafe, was filled with talented musicians strumming away, bringing a sense of love and passion into the air.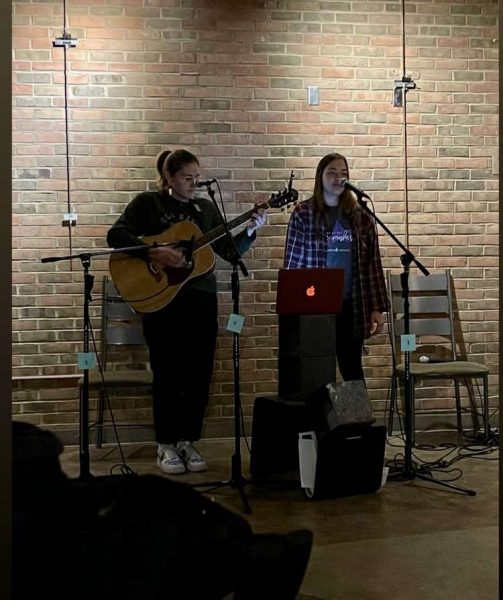 There were many familiar faces – for instance, Savannah Roth Walter, a senior sociology major who filled the roles of Java barista, performer and director of the live music event. 
"Music brings people together, allows students to share a part of themselves, and creates a shared space," Walter said. 
After rapid organization, the event came together with the assistance of eight talented musicians. 
The set list included Seth Kauffman, Anna Smucker, Yujin Kim, Anastasia Stevens, Savannah Roth Walter and the Runaways Band (made up of Karsten Shaw, Isaac Fisher and Birch Baer). 
Goshen College is composed of countless musicians that make events such as these a hit.
"There is something special about being able to play in a comfortable and cozy venue," Walter said. "The energy is relaxed and supportive." 
Java Junction is a safe space in which students are able to come together, with music or not, in a welcoming and supportive environment 
Students are able to reach out to Java anytime and may not even need to wait long for their Java music debut. There is hope for more live music events happening soon. 
" Java could be a great place for these events in the future," Walter said. 
Anastasia Stevens, a sophomore TESOL major who performed at the event, marks it as something she will look back fondly on.
"It felt like a good way to build campus community," she said. "It was exciting to see students interacting and having a good time outside of class."