Kayla Riportella
Copy editor
kmriportella@goshen.edu
The decision to get a tattoo requires a great deal of both thought and courage. Figuring out something to keep permanently on skin is time consuming and difficult. After deciding, one is then faced with the process of being stabbed with a needle more times than you can count. Most people tend to avoid encounters with needles if they can. But for those who view the pain as worth the product, it is a necessary step in acquiring something that becomes a part of them forever.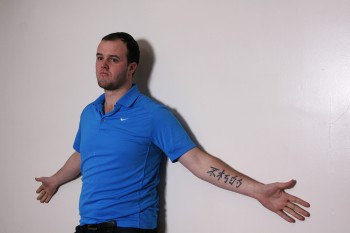 Ben Pollitt
When contemplating the idea of getting another tattoo, Lauren Trieber said, " If something strikes me, I give it at least a year before making a commitment. They don't wash off, you know."
Some students on campus get tattoos in memory of someone. Reflecting on the idea of getting other tattoos, Benjamin Pollitt said, "It means a lot to me, the art I have on my body and I don't want to just have something on me permanently if it doesn't share the same relationship with me as my others." Pollitt's three tattoos mean a lot to him. "I see each of them every day and I am washed with hundreds of memories," he said.
Pollitt's tattoo on his shoulder, for example, was done in remembrance of both his father and his grandfather: a sole golf ball pierced by two flags. The first flag contains the number 18 and the second flag contains the number 45. "The numbers are ages. I was 18 and my dad was 45 when he was taken from me. There are also three scrolls surrounding the ball with 1964, 'J.P.' and 2010: the year my dad was born, his death and 'J.P.' were his initials."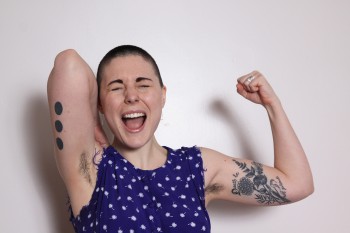 Lauren Treiber
Lauren Treiber's tattoo on her inner left bicep, consisting of Queen Anne's lace, mint and sweet pea plants and gothic text reading "Death be not proud" was also done in remembrance of her family. "The text is the opening line of John Donne's 10th holy sonnet," she said. At the age of 16, Treiber learned it by heart. "The poem reminds me, by speaking directly to Death, that Life (and Light) everlasting conquers darkness. The plants honor my mother and grandmothers, each of whom has met and overcome death through Christ," she said.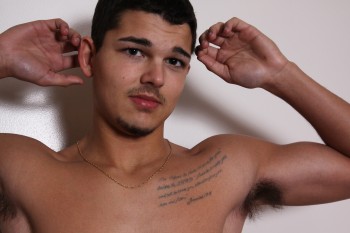 Eli Grimes
Eli Grimes's tattoo of "I love you" in sign language on his left shoulder blade was done to commemorate his grandparents, both of whom were deaf. "My whole family knows the language," Grimes said. Along with his family being something he values, Grimes also values his faith. A tattoo of a cross on his right shoulder blade and the verse Jeremiah 29:11 on the left side of his chest represent Grimes' relationship with God.
Tattoos also represent personal reminders that individuals hold dear. Kyle Capps has matching tattoos he etched onto his biceps that say "Priide" and "Passion;" they remind him of his mentor, and the weight that those words carry for him. "As I grew up," Capps said, "my mentor told me to have passion for everything I do so it can be done with the best of my ability." Along with his tattoo of "Passion," the acronym Priide stands for: positive, respect, intensity, intelligent, determination and enthusiasm. "My mentor based everything in life around the word pride. Six words that defines a person's character. If you can live through these words you will be a great person," Capps said.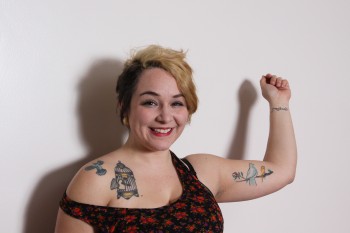 Allison Krawiec
Like Capps, Allison Krawiec's tattoos serve as reminders for the person that she strives to be. "The tattoo on my wrist says 'Semper amor,' which means 'love always' in Latin.  I try to approach every situation with the outlook of showing love and that tattoo is a daily reminder for me to love others, God, the earth and myself," Krawiec said.  Likewise, Krawiec's tattoo on her shoulder of a bird leaving its cage acts as a representation of her freedom. The bird "serves as a reminder that I can go explore and be free but that the door is always open to return to that safe place. It is a bluebird because I resonate with the idea of the bluebird, and freedom, being a sign of happiness and joy."
While tattoos are often meaningful, creative and even considered a form of art and expression, many jobs often include a "no tattoo" or "hidden tattoo" policy within their employee expectations. Having visible tattoos present in the workplace can be both frowned upon or prohibited depending on the work location. Although Capps has tattoos, he agrees with these regulations. "There is an image and tattoos are really not a part of that image. The clean image is the image we live by," he said.
While some businesses have strict policies against visible tattoos, Krawiec said that she is "blessed to work in a place that doesn't have a problem with them [tattoos]. I don't agree with the strict regulations. I do not believe I should have to hide my face to be the face of a company."
Angela Dedering, an art student, discussed the artistic value that tattoos have. "I think that tattoos should be allowed and viewed as art in the workplace. I don't think that employees should have to hide their tattoos; they are art that we paid a lot of money to get and got to show off," she said.
Although the question of tattoos being acceptable in the workplace is still ongoing and unanswered today, there is potential for the regulations to change over time. "I think that a rule such as this is outdated. With more and more people having tattoos, like me for example, I believe that you should not be forced to cover them," Pollitt said.
Looking into the future, there is potential for the regulations to be lightened or altered. But for now, only time will tell. "We are a new generation and we are starting a new trend that our children and their children will follow, which eventually someday tattoos will be acceptable in the workplace," Dedering concluded.