The Goshen College fall choral concert got off to a spooky start on the Friday of Halloween weekend. As the Chamber Choir presented their opening piece and the first song of the evening, "I Thank You God for Most This Amazing Day," by Eric Whitacre, the house lights began to flash on and off.
"No one is quite sure how it happened," said Ben Ganger, a senior in both chamber and men's choir. Could it have been something spooky? Whatever the cause, director Scott Hochstetler and his choir carried on with their music, ignoring the flickering lights.
Throughout the evening, each choir presented three pieces, several of which featured soloists, percussion and a variety of musical genres. The chamber choir followed their Whitacre piece with a piece by Schubert, an Austrian classical composer. They finished with a traditional gospel song about the book of Revelation, "John the Revelator" by Moses Hogan.
Following the chamber choir, the Men's Chorus performed three pieces. The men told their listeners about a tragic love triangle in "The Ballad of Little Musgrave" by British composer Benjamin Britten and followed that with "Got a Mind to Do Right," an American spiritual. They also sang "Widerspruch," a piece by Austrian composer Franz Schubert.
The Women's World Music Choir performs music from cultures and styles all over the world. Since their usual director, Dr. Deb Brubaker, is on sabbatical this semester, they performed under the direction of Marcia Yost, music center executive director and choir director at Goshen High School.
The women opened with a Brazilian folk song, "O Sapo," which told the story of a toad. Following this, they praised the wisdom and strength of their grandmothers in Andrea Ramsey's "Lineage," and closed with a Filipino folk song entitled "Paruparong Bukid," a piece about a butterfly that is so playful and joyous that the women stop and laugh in the middle of it.
To close the concert, Marcia Yost and Scott Hochstetler brought their choirs together to perform "Cantique de Jean Racine," a piece by 17th century French composer Gabriel Fauré.
Although the concert started out with spooky flickering lights, the malfunctions had finished by the chamber choir's third piece and the rest of the concert went on as planned. Perhaps whoever (or whatever) was playing with the lights enjoyed the music enough to stop and listen.
If you missed this concert, don't fret! The Goshen College choirs will be back on stage with the Goshen College Symphony in December for the annual Festival of Carols, from December 4-6 in Sauder Concert Hall. Tickets for all three performances are currently available in the Welcome Center.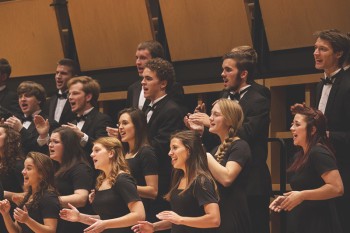 The Chamber Choir claps along with the spiritual "John the Revelator."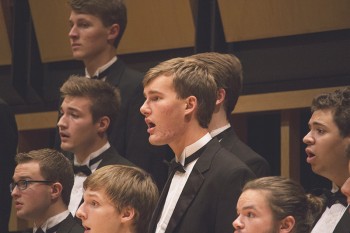 The Men's Chorus sings "The Ballad of Little Musgrave" by Benjamin Britten (center: Christian Stoltzfus.) Photos By Hannah Sauder