The music department hosted the annual winter choral concert on Saturday, featuring all three campus choirs: Vox Profundi, Voices of the Earth and the Goshen College Chamber Choir. 
The concert began with Vox Profundi, directed by Scott Hochstetler, singing a range of musical pieces, including a final song that was recently made popular on Tik Tok, "The Wellerman."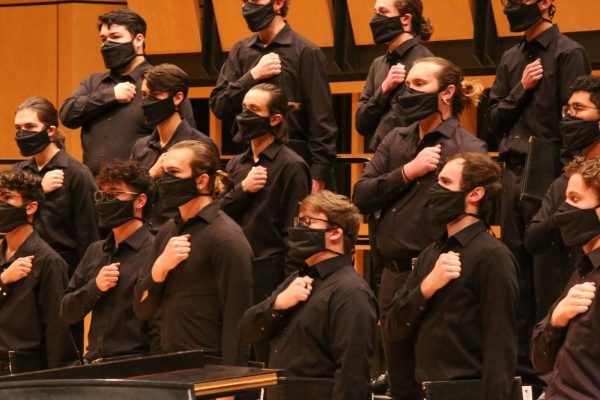 Noah Kauffman, a senior member of Vox, said: "The second piece we sang, 'Cantique de Jean Racine,' was my favorite of the four songs. It was difficult learning how to sing in French, making it much more satisfying to see how our practicing paid off."
Vox Profundi was followed by Voices of the Earth, directed by H. Roz Woll. Their repertoire was built of pieces from a variety of cultures and movements including Nigeria, Iran and Mexico. The final song, titled "Sound Bite from Beijing," emphasized the women's movement that is happening throughout the world. 
The Chamber Choir, directed by Scott Hochstetler, performed a number of songs, ending with a surprising piece — the "Gondoliers," which began with an eruption of spoken conversations between choir members. 
To conclude, the three choirs combined to sing an excerpt from Felix Mendelssohn's "Elijah" oratorio. They were joined by Sommo Voci, the area high school choir. 
The climactic piece tells the story of Elijah and the Israelites, their fall to pagan gods and the call to turn back to the true God. Soloist Ben Ganger, a 2016 graduate of GC, performed the part of Elijah.
The next chance to see Vox Profundi perform will be March 6, when the group concludes its spring break tour with a concert in Sauder Concert Hall.  The annual Earthtones concert including all three choirs will be held a few days later on April 9.