On Thursday nights, the sizzle from welding, the screech from cutting aluminum and the laughter from warm faces resound in a small workshop tucked away on the edge of campus: the Chairman Building, home to Goshen College's sculpture studio.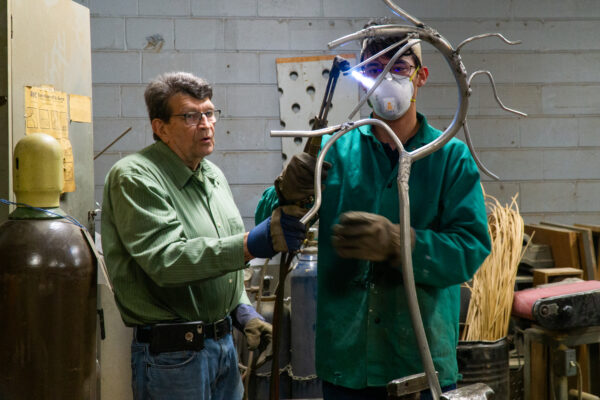 John Mishler (left) helps Mounsithiraj use a blowtorch to bend a tree limb. Seth Smith Kauffman for The Record
"This place allows you to relax and use a different side of your brain," said John Mishler, associate professor of art. He has many sculptures installed in Goshen, including "Dream Chaser" on the Millrace and "Broken Shield" at GC.
"I started sculpture my freshman year … and have been doing it every semester since," said Joseph Mounsithiraj, a junior art major with a sculpture installed downtown. He is drawn to  metal sculpture as a means of working in three dimensions: "You can walk around it and if they're kinetic they move in place … they're interactable in that regard."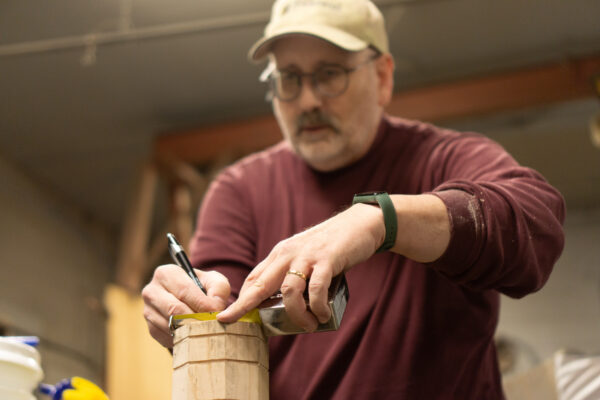 Outside of class, Sommers made a model Dalek from "Doctor Who" using a garbage bin, a KFC bucket and a beach umbrella. Seth Smith Kauffman for The Record
Henry Meyer, a sophomore biology major, started taking the class this semester. "I'm relatively new to art," he said. "The cool thing about sculpture is that you can really just do whatever you want. It's very open."
"For me, I like welding," Meyer said. "The way this class is structured and the way sculpture in general is structured — I can take that skill that I learned and channel it into an artistic medium."
According to Mishler, sculpture classes have no lectures and no papers — everything is about the students' art and collaboration. "You don't just learn from me," he said, "you learn from each other."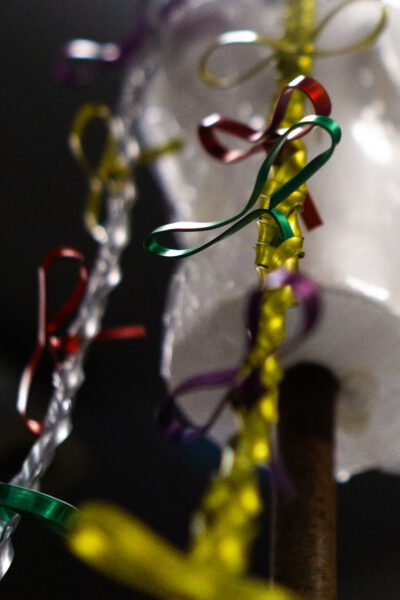 For the hair in his Rapunzel piece, Sommers added color using a process called anodizing instead of using spray paint. Seth Smith Kauffman for The Record
The classes are also not limited to traditional students. Greg Sommers, student accounts manager, is taking the class to channel his love of arts and crafts. "I worked as a carpenter when I was young and had knees that worked," he said. Sommers is currently working on a sculpture based on Rapunzel.
Emma Zuercher '23 has been working in the studio for two years and has sculptures installed locally in Goshen, Elkhart and Angola.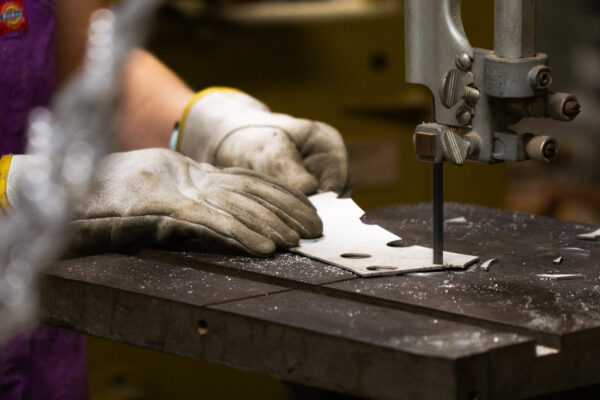 Emma Zuercher carves a piece of her sculpture using a band saw. Seth Smith Kauffman for The Record
"I like working in 3D," Zuercher said. "I like working with my hands — being very much in the physical world and interacting with my surroundings."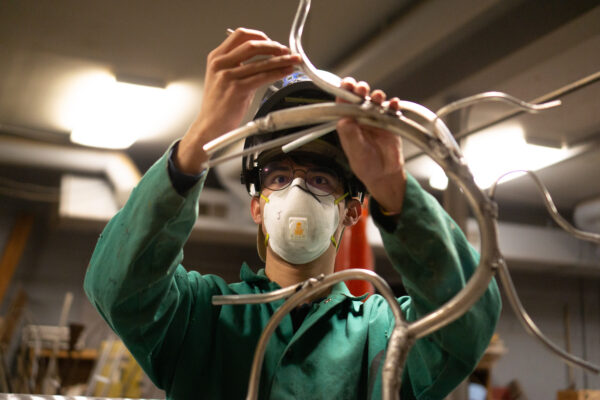 Mounsithiraj plans to make his final sculpture over 10 feet tall. Seth Smith Kauffman for The Record
The four of them described the sculpture process as very improvisational: "A lot of it is just sticking s— together until it looks cool," Mounsithiraj said.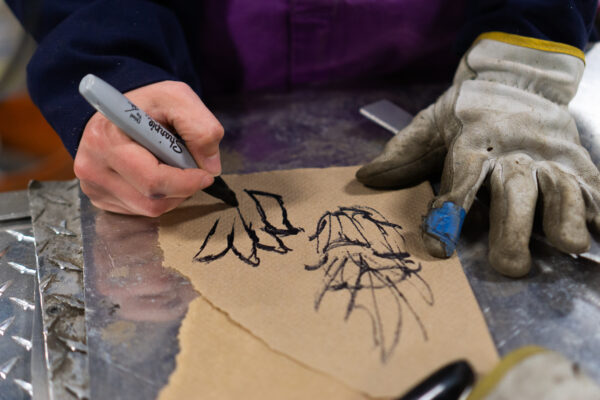 Zuercher usually sketches the designs for her sculptures on paper towels. Seth Smith Kauffman for The Record
"If there's a right way to do something, that doesn't really cross my mind," Zuercher said. "If I want this piece of metal to get into this shape, I'm going to use what limited knowledge of physics I have and just figure out how it's going to work."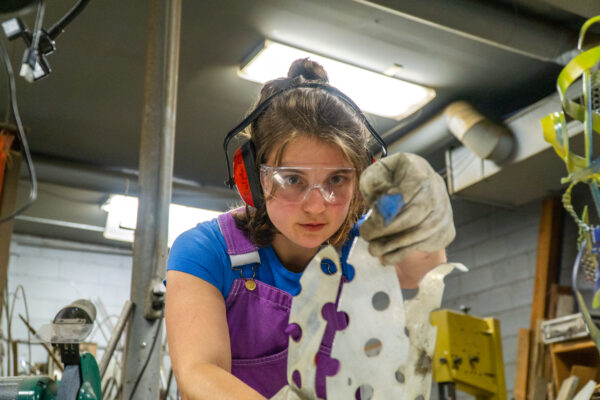 Zuercher likes to have a lot of "twisting motion" in her work, so she tends to use aluminum, which is more malleable than steel. Seth Smith Kauffman for The Record
She and Mounsithiraj also appreciate that sculpture is an easy art form to display publicly.
"Having sculptures in public places is fun because other people are going to interact with it," Zuercher said. "Someone could just spray paint it or tear something off of one of my sculptures, but I'd much rather have it be vulnerable to life than be hidden."