Goshen College has been quite the journey for Emma Koop Liechty. It's a journey that began in her senior year of high school, after taking graphic design classes. At GC, she took a while to choose a major, only deciding on art in the second semester of her sophomore year."I always really liked doing art when I was little," she said. "But I was never interested in high school or middle school."
It was only in taking those graphic design classes that she found an art form that, as an adult, she could love.
When college began for Koop Liechty in the fall of 2013, she, like many other first years, was undecided. She was juggling a mix of history, education and music. She never thought she would be an art major until she took Digital Design that very year. This, according to Koop Liechty, was part of her reasoning in making the final decision.
However, she's willing to admit that it's not going perfectly. "It's still hard for me to take art classes," she said. "I'm still learning a lot about different types of art, especially because I didn't have much practice with art before college."
However, while graphic design remains her strong suit, she continues to enjoy learning new and interesting forms from which she can take inspiration. Much of Koop Liechty's art is influenced by her three years in India during middle school. "Middle school sucked because I was in a culture that wasn't my own," she said. "But I became a part of that community. I am appreciative of my experience there, and it made me who I am today."
Her parents worked as counselors at Woodstock School, a Christian boarding school in the Himalayas. Many current Goshen College students are Woodstock graduates, and Koop Liechty feels a strong connection with these students. "This year is actually the 10-year anniversary of my family moving to India," she said. "So I've known most of them for 10 years now."
In this international experience, she has found inspiration by what she saw and experienced, particularly in bright colors and nature."I like working with textures and patterns and colors that I have seen and experienced all around the world," she said.
While she's not taking any graphic design classes this semester, Koop Liechty still has her hands full. She's designing the posters, programs and ads for the Spring Mainstage, "Julius Caesar." "It's fun to be able to see my artwork around campus," she said. "People won't necessarily know it's mine, but it's fun to be able to see that and be proud of my work and see how it's influential with what's happening on campus."
In addition, she is also house-sitting while her parents, Jill Koop Liechty, the Newcomer administrative assistant, and Dan Koop Liechty, director of alumni and career networks, are leading an SST unit in Cambodia. This is her first semester living off-campus as a commuter student. "[Commuting] makes it harder for me to want to be on campus later at night, but I think it's still a good experience," she said. "I feel like I'm taking another step towards adulthood. I have to take care of my family's home, cook for myself, take care of the cars while they are gone. But, it's comfortable to be at home."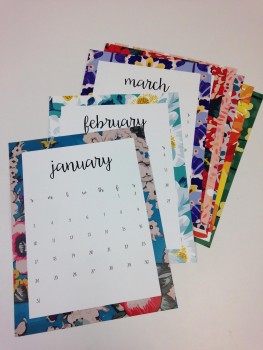 Calendars Koop Liechty created to give her family as they travelled to Cambodia.Photo by Emma Koop Liechty