Thirty-five students took the stage this past weekend to perform in Goshen College's annual International Student Club (ISC) Coffeehouse.
The ISC leaders kicked off the event by welcoming both the socially-distanced audience in Sauder Concert Hall and the virtual viewers watching via livestream all over the world.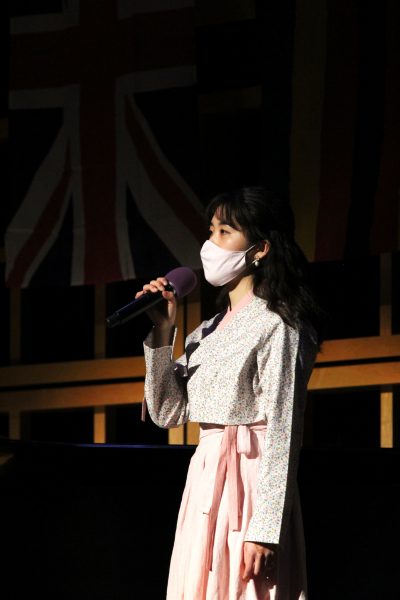 The welcome was followed by 10 acts representing a variety of cultures, countries, and musical styles. Meghna Das performed "Kaisi Paheli Zindagani" alongside Goshen Panic, while Bohan Lin, S
ubin Park, and Melissa Ma danced their hearts out to "Bombtastic." Yujin Kim and Gogo Liegise slowed things down with a performance of "San Chek," which was followed by a Puerto Rican-African-fusion dance routine titled "Salsa Bwaganzi," featuring Lisa Rosado Rivera, Antoinette Mpawenayo, Mireilys Moreno Gierbolini, and Lauren Murphy.
Next up was a guitar solo performed by Byeong Lim, a ballet dance featuring Melissa Ma, an original song titled "Café con Pan" by campus band Mechudos y Peludos, and a rendition of "Sad Song" by campus band Smooth Groove.
The final act of the night was the Red Hot Desi Peppers with a dance medley of Bollywood songs – a coffeehouse tradition.
The event closed with the presentation of three international student scholarships. Dan Liechty, international student advisor, announced the recipients of the awards.
"These awards [are] for rising seniors who have made a difference," he said. "I send an email out to all the international students and I send an email out to all employees. They vote, but they also make comments. I and a group of people look at the comments and the votes and we figure out which three are most deserving for those awards."
Ebtihal Abdelaziz, a junior from Cairo, Egypt, received the Manickam scholarship, an annual award funded by Goshen College graduates Sam and Tim Manickam. Kiprop Kiprotich, a junior from Eldoret, Kenya, and Priscilla Tanujaya, a junior from Jakarta, Indonesia, received the two Give Something Back awards, which are funded by Goshen College graduate Raj Biyani.