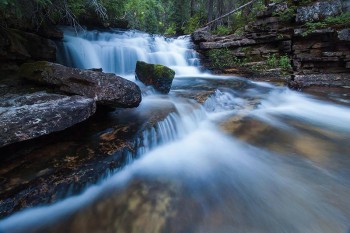 Photo taken by Mark Kreider in Colorado.
An aspiring conservation photographer, second-year environmental science major Mark Kreider came to science in what he describes as an unusual way: through the arts.
"Photography is what led me to environmental science," he said.
Kreider has always had artistic instincts, learning to play piano from the age of 5 and picking up photography and oboe during middle and high school. In addition, his parents had always encouraged him to spend time singing and enjoying the beauty of nature. Kreider's father, a designer, has encouraged his son's interest in graphic arts as well.
From the minute Kreider first picked up his parents' point-and-shoot camera, he began taking pictures of the outdoor world—"poking around in the backyard," as he puts it.
Early on, Kreider was inspired by Bob Regier, an artist from his home community whose work explores the beauty of everyday things. Regier has pieces displayed in the Goshen College Music Center, the Administration Building and the Good Library.
When Kreider was a senior in high school, he was able to study under Regier as part of an independent study course in photography.
Upon his high school graduation, Kreider won a scholarship through the North American Nature Photography Association, which took him to Florida for a week of working with professional nature photographers. There, he met another of his mentors, Mac Stone, a conservation photographer in the Florida Everglades.
Kreider said that Stone pushed him to pursue art with a purpose. "He challenged me to keep trying out new ideas and to do meaningful work, not just settling for what looks nice."
It was through Stone and the NANPA that Kreider first began to dream about "pairing the art of photography with the science of conservation to promote and inspire care for natural environments."
Kreider has already photographed nature extensively: in his home state of Kansas, in nearby Colorado, and in Alaska, where he lived for a year between high school and college.
Much of his work displays the beauty of the various locations in which he has lived and travelled, often exploring the relationship between humans and nature.
In addition to pursuing photography, Kreider has followed his father's lead and is currently taking a typography class.
He continues to pursue music in a variety of realms as well, taking music classes, singing in both the Goshen College Men's Chorus and the Chamber Choir, taking private piano lessons, performing in a chamber music trio and serving as a leader of the Goshen College Hymn Club. He also enjoys composing music.
Kreider said that he owes his love of music to his family,and mentions in particular his uncle, Bill Eash, a professor of music at Bethel College (KS). Kreider said that while he was growing up, his uncle would "always get [him] involved."
"We'd go to a symphony concert, and he'd give me the full score and tell me 'You're going to follow along,'" he said.
Eash also gave Kreider the opportunity to accompany the Bethel College Men's Ensemble, which Kreider did while still in high school.
Kreider hopes to continue engaging his musical interests in the future, though he does not plan to pursue employment in music. "I haven't found a good way to intermesh music into my career goals," he said.
Reflecting on the connections between music, art and science in his life, Kreider observes that the arts and science are two sides of the same coin.
"Almost everything has an art and a science, if you break it down," he observed.
"There are technical elements to the arts," Kreider said, citing the skills needed to play piano and use a camera. "Those aspects are almost scientific, but they're devoid of meaning if that's all you have." Kreider's online gallery is available at markkreider.zenfolio.com.