"Oh, just let me make another print! Almost ready."  Emma Gerig, a sophomore art major, hurries over to her desk to finish a new addition to her collection of hand-made greeting cards.  Bending over a flat pane of glass, Gerig picks up a stamp tool and a folded piece of cardstock. Brushing some black paint onto the glass surface, Gerig presses the stamp first to the glass and then to the front of the cardstock. "It's a carrot!" says Gerig, holding up the expertly crafted greeting card with a rustic illustration of a carrot stamped on its front. "This is one I just finished today."
Gerig had never taken a printing class before experimenting with the craft over Christmas break. The makeshift printing station she has fashioned in her dorm room is one that, to her, "just seemed most practical."
She has carved a number of individual stamps, which sit in neat stacks on her desk next to a row of finished cards. The cards are simple and simply made; most are stamped with black paint on white cardstock. The images themselves, however, are more intricate.
Emma's cards are stamped mostly with critters. Many are farm animals, some of them are animals she owns or has met and snapped pictures of in the past.  So far, Gerig's collection includes depictions of a goat, a heron, a chicken and a rat, among a variety of others.
"A lot of my artwork really does revolve around my experiences with animals," said Gerig. "I have a goat at home, and our chickens will all sit on its back just to keep their little feet warm. When I see things like that, it gives me an idea that I can translate into an image."
In addition to creating images of animals on greeting cards, Gerig has a sketchbook full of characters that have quirks, names and personalities.  The sketches, which range from simple cartoons to detailed studies of a variety of animals and wildlife, will someday become a story. Gerig's goal is to become an illustrator, designing visual stories that blend with verbal narratives that range from children's books to graphic novels.
"In Oregon I read a lot of literature about aesthetics and how important it is for emotional health," said Gerig, referring to her semester at the Oregon Extension. "It's even important when learning about new things. I want to figure out a way to create artwork that will help people to visually learn about how they can be creative too."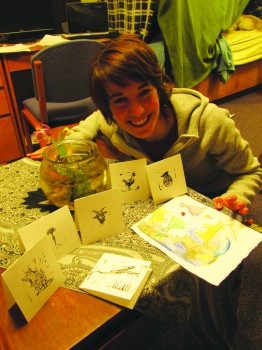 Gerig will be sending in books for publication as well as applying for a Goshen College entrepreneurship grant this semester. In addition, her collection of stamped greeting cards will be sold at the downtown gallery, Found (previously Graber Designs & Gallery), once it reopens in the spring.
For both her cards and her illustrations, Emma's focus is on imagination.
Pointing to a watercolor illustration on her table, she explained, "I was just thinking it would be funny to draw farm animals in space. So I did."