When people think of Goshen College, some may think of the Mennonite background or SST units. But Priscilla Tanujaya, a recent graduate with music and art degrees, had an unusual thought about GC's small campus. 
As a lover of sci-fi movies and video games, Tanujaya imagined a very different version of GC. 
"What if Goshen College is being invaded by aliens?" she asked herself. And there, her senior art project was born. 
She initially began with her painting of the Science Hall and Coffman Residence Hall being swarmed by aliens. 
"Cool thing about this project was how Randy [Horst] just trusted me and let me work on my nonsense idea," Tanujaya said.
Since her first piece was a success, she created more alien invasion series, which took the campus by storm.
Students and faculty alike marveled at Tanujaya's incredible artistry and talent held within her paintings.
Everyone across campus seemed to take interest in the work she was doing, including theater professor, Amy Budd.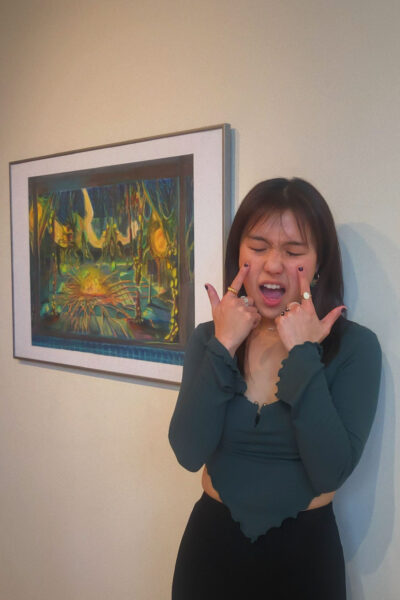 Many theater students were initially disheartened by the lack of representation of Umble Center in Tanujaya's original collection. 
"People responded so delightedly to the rest of her alien invasion series last spring, that it made me jealous she didn't do one of Umble!" Budd said. "And so I decided to contact her and discuss it." 
Tanujaya was definitely not expecting commissions, noting that she does not expect anything. However, she dreamed that "it would be cool if every one of the buildings commissioned me.
"Imagine, they're giving a tour to prospective students and they pass by one of my artworks," she added. "That would be any artist's dream."
Budd has been extremely excited about the project ever since it began, planning to hang it in the Yost Room, where most theater classes and events take place. 
The piece is an interior of the Umble Theater, which was Tanujaya's idea. Aliens are pictured ripping the ceiling open and invading the open space. 
Budd spoke highly of the prospective painting, explaining that "having this delightful thing in our space is going to help us cultivate joy and a sense of community among our students." 
For the theater department, this painting is more than just that. According to Budd, it represents a kind of validation for the department that is often missed in other moments. 
Tanujaya is currently working full-time and doesn't have much spare time to devote to art. 
Yet, she remains hopeful that she can continue creating art that sparks joy and hope among people. 
"Because of the love I have for art, nothing will stop me from doing it," she said. "It definitely takes time and hard work, but it's worth a shot!" 
You can view other pieces in Tanujaya's Alien Invasion collection and additional art by her on her Instagram, @bypriscillaclara.