Mennonite Church USA Archives offers wealth of resources to students
Author: • Nov 10th, 2010 • Category:
features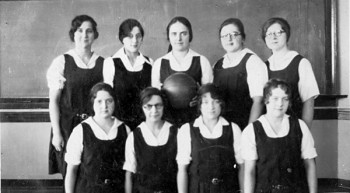 Many students know that Goshen College is home to the Mennonite Historical Library, but few know that the college is also the residence of the Mennonite Church USA Archives. The two are commonly confused as being the same thing, but the Historical Library contains published materials while the Archives hold unpublished materials. Located through a courtyard in the Newcomer building, the Archives are rarely used by students. However, if taken advantage of, the Archives have a lot to offer both independent researchers and students.
An archive is generally described as a place for housing both official and private records. According to an article published in the Mennonite Historical Bulletin in 1940 by Harold S. Bender, the Mennonite Historical Committee decided in 1937 that such an archive was necessary to preserve Mennonite history. With collaboration between the Mennonite Board of Education and Goshen College, the Mennonite Church USA Archives officially opened in the summer of 1940.
Today, archivist Colleen McFarland runs the Archives, with the help of several assistant archivists. The Archives contain collections consisting of articles, personal letters, journals and photographs that are donated by individuals, as well as official Mennonite records and manuscripts.
"The main point is we're not the library; we have complimentary collections but not identical," McFarland clarified.
The Archives is constantly growing as new collections are continuously donated. One of the newest collections McFarland has received are Records of Hispanic Mennonite Conventions spanning from the 1970's to the 1990's.
The Archives is used by a variety of people, not just local historians and professors.  Genealogists use the Archives to track family lineage while individuals also come to learn about their family history. Even researchers from National Public Radio and Public Broadcasting Service commonly contact the Archives to find materials for programs or documentaries.
Public services offered at the Archive vary on the needs of the client, but McFarland and assistant archivists interact with clients via e-mail, phone or in person. When researchers come into the Archives, they meet with McFarland and discuss archival collections that may be useful to the researcher. McFarland then goes into the stacks, which house what McFarland estimates to be around 10,000 feet of materials, to retrieve the necessary collections for the researcher.
When McFarland is not working with researchers, she's describing and organizing new collections to make them easy to locate. McFarland is also working to put descriptions and other materials into an Internet database to make the archives available online. The Archive also has a Flickr account, which shows photos from select collections.
"We're trying to put more of our content, both collections and material that explains them, on the web so it's more accessible for people," said McFarland.
Very few students know that it exists, let alone what the material can offer them. McFarland believes Goshen College students under-use the Archives because it never comes to mind as a potential resource.
"We start going to library when we're really young, but archives are not something we're introduced to as students, and the students have to make an effort to come to the Archives," McFarland said.
McFarland also emphasized that students tend to think of archival research as being reserved exclusively for doctorate students, but McFarland insists that's it's not. "Archives give undergraduates a chance to learn extensive research skills and actually read manuscripts," she said.
The Mennonite Church USA Archives are also unique in the way that researchers can connect to the material on an emotional level. Students tend to spend all their time pouring over printed books and articles, but the Archives also has handwritten letters and manuscripts that are privately donated and never published. Researchers get to see and feel the old, yellowing paper and actual photographs from over 100 years ago.
"Archives are very emotional places, and I think coming to an archive can make it easier to develop a strong passion in your research topic," McFarland said.  "Reading something from centuries ago, you have that direct connection and can tap into the feelings and perceptions of the feelings of the people you're interested in."
The Mennonite Church USA Archives are located through the courtyard on the southwest corner of the Newcomer building. It's open Monday through Thursday 9 a.m. to 5 p.m. with extended hours until 9 p.m. on Tuesdays.