The men's and women's track and field teams competed in the 2023 Hillsdale Wide Track Classic on Jan. 28. This is the third meet of the year heading into the middle of the season.
In the previous meet, Nelson Kemboi, a junior, hit the national "A" standard in the 3,000 meter race with a time of 8:37.58. Summer Cooper, also a junior, hit the national "A" standard in the mile with a time of 5:06.98. 
Freshman Madison "Mady" Axom jumped a height of 1.62 meters (5 feet 3.75 inches). This jump tied the school record and earned her third place.
Additionally, Axom competed in the long jump, where she also placed third with a distance of 5.00 m (16-5). 
On the other side of the field, Willow Kenneda, a junior, competed in the weight throw and shot put events. In the former, Kenneda threw 14.23 m (46-8.25) to place 10th of 30 competitors, and in the latter she threw the shot 9.76 m (32-0.25) to place 20th of 30 as well.
As for the running events, Cooper ran the mile alongside junior Mia Wellington and freshman Brittany Ortega. Cooper finished second overall with a time of 5:17.43 seconds. Wellington placed sixth with a time of 5:36.04 and Ortega followed with a time of 5:39.05 in 8th.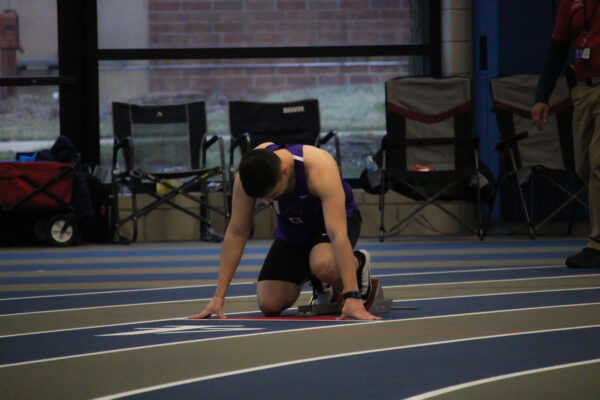 The three of them also competed in the 800-meter race: Cooper ran a 2:21.27, Wellington a 2:32.44 and close behind was Ortega with 2:32.46.
Axom also joined Cooper, Wellington and Ortega in the 4×400 meter relay. Together they ran a time of 4:22.80 and placed eighth.
Freshman Kennedy Land competed in the 60-meter dash in the shorter distances. She placed 17th with a time of 8.36 seconds. 
In the 400-meter race, Maria Maldonado, a junior, placed first in the meet overall with a time of 1:01.33. 
On the men's side, senior Kevin Bollman ran the 60 in 7.76 seconds. The 800 was led by freshman Drew Hogan, who slingshotted around the final curb to win his heat with a time of 1:57.83.  
"I felt pretty good about it, it was fun competing," Hogan said. "I want more. I want a national standard." 
With him in the 800 were junior Jordan Garlinger and freshman Anthony Roberts. Garlinger ran a time of 2:00.83 and behind him was Roberts with a time of 2:00.93.
The team will travel to Indiana Wesleyan University to compete in the Midwest Classic on Feb. 4.