Two weeks ago, the Goshen College tennis teams competed at the four-day Intercollegiate Tennis Association's Small College Regional Midwest tournament at Indiana Wesleyan University.
"You wake up as a team and you go to bed as a team," said senior Kevin Bollmann. "You spend basically 24 hours together…and that support showed on the court." In what head coach Evan Atkinson called "some of [their] best tennis," Goshen College closed its season by winning two tournaments with strong performances in multiple others while competing against over 200 of the best NAIA players in the Midwest.
Sude Aytekin won three of her matches and advanced to the quarter-finals. Aytekin won 6-2, 2-6, 10-7 in her second-round matchup of the women's singles main draw against Sofia Munoz, the No. 1 overall seed from Indiana Wesleyan. This led to Aytekin's advancement to the quarterfinal round and eventual loss against Jimena Ramirez from Grace College in a tightly-contested super-tiebreak.
In the men's singles main draw, Filippo Gallo, a freshman, advanced to the quarterfinals by winning his first three matches. Gallo also lost his quarterfinal match in a super-tiebreak, but Atkinson has high hopes for his future.
"[Felippo] is right there on the cusp of being one of the best players in our entire region," Atkinson said. "It's pretty exciting for our future."
The men's singles B draw saw Bollmann reaching the semifinals and Pedro Scattolon reaching the quarterfinals respectively. Bollmann and Scattolon also competed as doubles partners, where after losing their first-round match, they won four matches in the back-draw to face Indiana Wesleyan in the finals. In what may have been Bollmann's final match for Goshen College, the duo won the match and the tournament in an 8-5 pro set.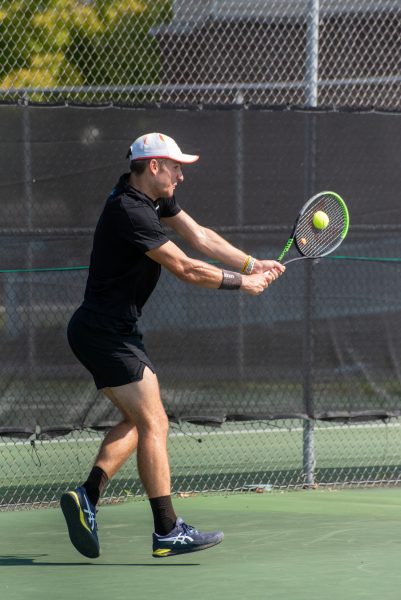 Kevin Bollman catches air while hitting a backhand. Tyson Miller//The Record
"In the final, it was about attitude and the willingness to win," said Bollmann. "We had a great attitude; the support was there from the entire team."
Meanwhile, sophomore Mario Gomez competed in the men's singles B draw, where he defeated opponents from Lourdes, Huntington, IU-East, and Marian. Gomez continued to climb the B draw until he reached the finals, where he claimed a victory over Oakland City University's Carlos Hernandez, 8-6, to win the tournament. 
"I was so proud of [Mario]," Atkinson said. "He sometimes does not always show the confidence that he's able to…grind with the best of them. This tournament was huge in that he obviously can, and when matches are close he'll come out on top."
Goshen ended their season 5-3 in the Crossroads League.