The odds of Syanne Mohamed, a 21-year-old Polish basketball player, landing in Goshen were very unlikely. And yet, here she is, a center for the Maple Leafs, standing at 6 feet, 3 inches in the Gunden Gymnasium. 
Syanne Mohamed was born in Bulawayo, Zimbabwe before moving to the United States at age 2 when her family relocated to New Hampshire. 
At age 9, Mohamed moved to Poland, where her grandmother introduced her to league basketball. She began playing for the Baystate Jaguars.
When it came to her college decision, Mohamed chose Goshen for two reasons: the small class sizes and the nursing program. 
"Ever since I was a little girl, I knew I wanted to help and cure people," she said.
In June of 2021, Mohamed committed to play basketball at Mount Mercy College in Iowa, but Stephanie Miller, head coach of the Goshen College Women's Basketball Team, continued to heavily recruit her, inviting Mohamed on a campus visit. 
"When I met the coaches and team in person, I knew exactly what decision I had to make," Mohamed said. "I fell in love with the school, it just felt like home." 
The transition to Goshen College has had its ups and downs.
"It's everything I imagined, but the only challenge has been getting into the college mode," Mohamed said. "There is a lot of reading and writing, and I'm trying to make school and basketball work."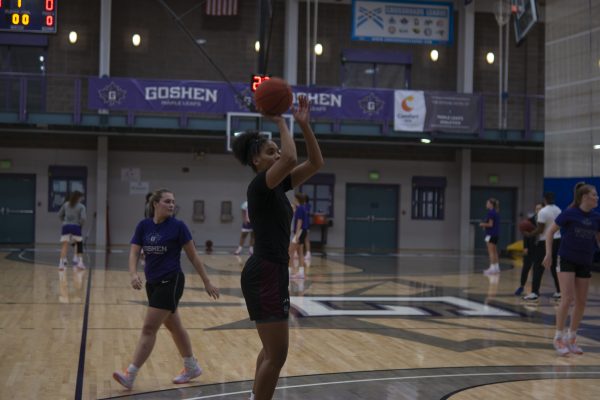 Being so far away from home, Mohamed misses her family a lot. 
"It's hard, but I have to remind myself that I came here for a reason — to get an education and basketball experience," she said. "When I get older, I will be able to get a good job and provide for my family and give them what they deserve." 
On the court, Mohamed is a feisty rebounder, a versatile offensive threat, a hard-nosed defender and an overall aggressive player. Basketball in the United States is very different from basketball in Poland, and Mohamed is still adapting to the new set of rules.
"In Poland, the referees allow you to fight and be aggressive while playing," she said. "American rules are very different."
"Syanne is truly an outstanding fit at Goshen College," Miller said, "she is a difference maker on and off the court."