Nearly every week, large groups of Goshen College students gather in the Recreation Fitness-Center, on the sand volleyball courts, or at the KMY lawn to partake in intramural sporting events and tournaments.
To start the semester, students formulated teams and played in the annual sand volleyball league and tournament. Likewise, an outdoor soccer tournament was held this past weekend. 
According to Chad Coleman who works in Student Life and has managed all intramural sports on campus since 2009, intramurals create a great sense of community and camaraderie amongst students.
"Intramurals provide a competitive, yet fun, inclusive environment for students, particularly those who are not involved in a collegiate sport, on our campus," he said. "It's also a great way for students to stay physically active on campus." 
Diego Torres, a junior physical education major who enjoys participating in intramurals said, "Intramurals have allowed me to meet and become friends with a lot of people I wouldn't have run into on campus elsewhere."
"Whether it be playing in the games or watching from the sidelines, intramural sports have been a great way to build community amongst athletes and non-athletes at GC," Torres said. 
After receiving a degree in sports communication at Indiana University, Coleman has been able to continue expressing his love for sports and pass it along to GC students.
"Intramurals allows me to live vicariously through sport as a separate little branch of my job," he said. "It helps me feel connected to students and sports here a bit better."
"I played intramural sports in college and to this day, it's what me and my college friends talk about the most when we get back together," Coleman said.
Torres recalls, "My favorite intramural memory has to be winning indoor B league volleyball last year without losing a game."
Students reap the benefits of intramural sports on campus; however, we very rarely get a look at what goes on behind the scenes of planning a successful intramural event.
Coleman and his staff meet prior to every season or tournament to plan and assign duties.
Timelines are created, with night classes, other campus events, gym availability, and many other factors taken into account. Also, marketing through posters, communicator announcements, newsletters, and word of mouth has to be organized well in advance.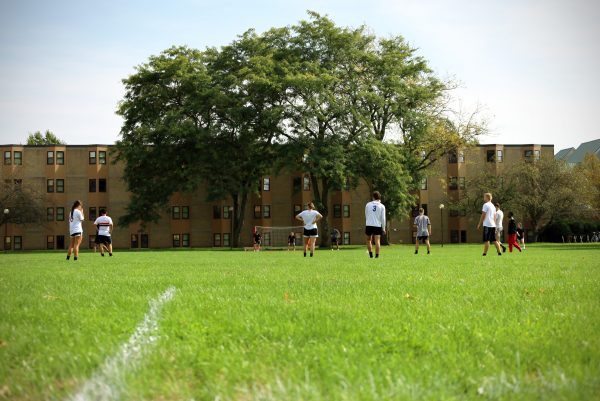 With the upcoming fall break, intramural sports will be on hiatus for the rest of the month but planning for events in the future is still in the works.
Students can begin looking forward to the co-ed Turkey Bowl Touch Football Tournament which will be played in November near the Thanksgiving holiday break. In the spring, Coleman and his staff plan to bring back the indoor volleyball season, 3-on-3 basketball tournament and indoor futsal league. During May Term, there will be an assortment of one-day tournaments including spikeball, sand volleyball, kickball and dodgeball. 
The winners of each championship will find themselves pictured on the wall of fame in the RFC donning their champion t-shirt.