Goshen College on Friday revealed a new mascot and official cheerleader for athletics: Dash the Squirrel.
I'm now out of a job.
For the last nine months or so, I've been going to all the Goshen home games while wearing a crummy little squirrel suit from Amazon, held together with duct tape and safety pins. And in those nine months, the student section became louder than at any time in recent memory. 
My life as a squirrel began after the GC administration sent an email out to its student body and alumni last year announcing the formation of a mascot search committee. "A mascot for Goshen College? We want your input!" Students were excited, and waited eagerly to see what the committee was thinking.
And waited some more.
And kept waiting.
After a couple months of hearing nothing, Alex Koscher, a sophomore at the time, decided to take good luck into his own hands. Koscher came up with the idea of buying a squirrel costume from Amazon, and I decided to help him out. The two of us put out a call on our Snapchat stories for people to donate a dollar or two to go towards the new mascot.
Four hours later, we had raised the $90 to buy the outfit.
Ordering the costume itself was a hoot — if you ever need some comedic relief in your life, check out the Amazon reviews for the "Rasta Imposta Squirrel Costume." The costume finally arrived, but just a day or two before the end of the fall semester. We didn't have a chance to wear it until after winter break.
The Squirrel debuted at a women's basketball game in early January. I showed up to the game with a fairly packed crowd, probably a hundred fans or so. I can't say I remember the final score, but I remember leading a few chants, talking to people and generally introducing the new "mascot." The first chant I ever led was "Go Goshen Go," a staple of Goshen sports that was first popularized at soccer games.
The Squirrel reached its finest form during the men's volleyball season. The Goshen team not only did well last year, going 20-9, but volleyball is such an engaging sport to watch. There's constant action, and the athleticism is unbelievable at times, leading to plenty of opportunities for the crowd to get into the game. Lauren Ford, the men's volleyball head coach, said of The Squirrel, "I just think of the Aquinas game every time…it was a crowd pleaser. A pump-me-up kind of deal."
The game against Aquinas College, a favorite memory of mine as well, came in mid-February. We came into the game hoping to be competitive, but we knew Aquinas was a high-level team receiving votes in the national poll. I arrived a few minutes late, and as I walked into the gym, Aquinas scored with a highlight-reel kill. Their bench let me hear it.
"The squirrel's our good luck charm!"
"Yeahhhhh! Thanks, squirrel!"
Naturally, I had to respond in kind, and for the entire game their bench and I were talking smack back and forth. The hundred-plus students in the crowd joined in, and the atmosphere became unbelievable. There was constant shouting and chanting the whole match, with just one little warning from the referee. 
We won in a five-set thriller — Ford called it "one of the biggest games in any Goshen sport last year" — and at the end of the game, as I was walking out of the gym, a group of Aquinas players ran over and shook my hand. It was a moment that stuck with me the rest of my career in the suit.
It's hard to describe exactly why I enjoyed the squirrel so much, but I think there was something really special about unifying the student body so cohesively — especially around a stupid-looking, rundown piece of fabric. I know well that I looked like a fool in that thing. But I think that's the beauty of it: I wasn't afraid to act like an idiot and scream my tail off, and that carefree attitude has spread to the rest of the fans. 
A few weeks ago, the entire men's soccer team showed up to a women's volleyball game with a massive drum. Sure, they almost got kicked out for it, but that's exactly the attitude that I want from our student section.
I can't help but think of a high tribute to fans paid by Mikel Arteta, manager of the English soccer club Arsenal. After a key win last year, Arteta said, "They [the fans] are playing the game with us, and that completely changes our ability and our potential."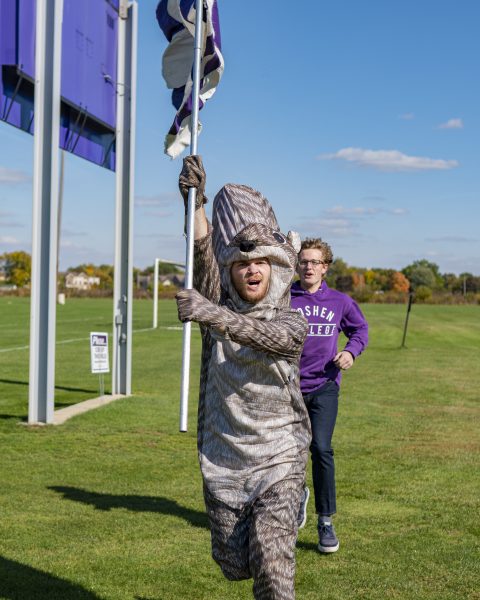 Jackson Stienmetz//The Record
It's the same at Goshen. When we turn out in numbers, scream at the top of our lungs and embarrass ourselves to the point of no return, it changes the dynamic of play. We get into the heads of opponents, and we lift up our players when they need a pick-me-up.
We're not a Division I school with thousands of fans. We don't even have a football team. But the passion and energy from the fans is something really, really special, and I'm beyond honored that I was able to help move that forward. And now, I'm handing off the reins to Dash the Squirrel.
Dash is pretty much a better-looking version of me. While I was always in my squirrel birthday suit, Dash has a full Maple Leafs outfit. Dash sports a much better-looking tail and walks the sidelines in massive purple shoes. I usually pulled up in Chacos…definitely a bit of an improvement. Dash is also way taller and more friendly-looking than me, which is probably good for PR purposes.
The one thing Dash doesn't have is the Velcro acorns. I thought about giving them to Dash, but I think they're a relic of a time gone by, so I've hung them up for good. And I'm not sad about it. The Squirrel isn't needed anymore — the attitude and energy has been picked up by Dash, sure, but more so by the rest of the student section. And that's a beautiful thing to see.