Both the men's and women's 2022-2023 basketball seasons have come to a close. 
The men finished with a record of 3-25 and the women finished 7-21.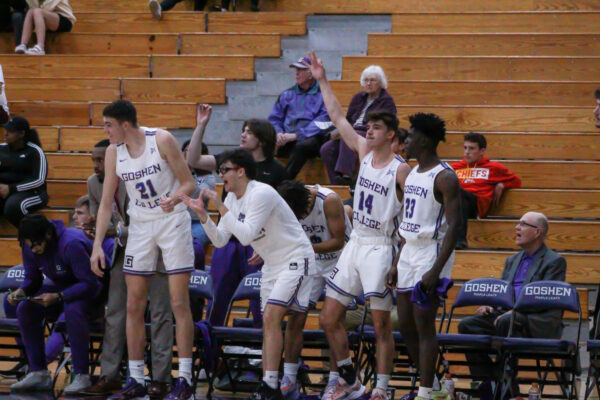 Micah Spatt, center, led the Leafs in celebrations this year. Ashly Christison//The Record
The leading scorer on the men's team was senior Elias Ramirez, with a total of 367 points, averaging 13.1 points per game (PPG). Kaden Johnson, a freshman, led the team in rebounds and blocks with 214 and 24, respectively and averaged 7.9 boards a game. Johnson's season high was 16 rebounds against Marian on Jan. 7. Greg Johnson II, a sophomore, led the Maple Leafs in steals with 41, which averages to 1.7 steals a game.
The women's team was led in points by Zion Neat, a junior, with 381 points and 13.6 PPG. The rebound title for this season is held by sophomore Syanne Mohamed with 158, followed by sophomore Zoe Zellers with 151. Sophomore Kyla Foster had the most assists with 55 in only 17 games, averaging 3.2 assists a game.
Head coach Stephanie Miller reflected on the women's basketball season with realistic optimism.
"We were frustrated not being able to achieve some goals," Miller said. "When you have standards and you fall short of them you are never going to feel satisfied or happy with the ultimate result … but happy is how I feel in the process and the growth."
"[The team] made tremendous progress in growing our athletes and closer to having the experience we need to win in the Crossroads League," she said. "The number one thing we did was we learned to manage obstacles … instead of letting things fall apart."
 The women's basketball team had a very strong start to the season, beginning 5-2. 
Despite having some long losing streaks, Miller said this about the culture of the team: "I love the group. I think it is a very hard-working group. Chemistry and culture is strong even after going through tough times; tough times put a lot of pressure on your culture. For us, it connected us… How do I feel about the youth going forward? Excited."
Ramirez, the leading scorer for the men's basketball team, said. "Sometimes struggling takes a toll on you, definitely when you care, like a lot of our guys do, especially the coach." 
Ramirez, who is graduating this year, reflected on the culture of the team moving forward. 
"It's moving in the right direction," he said, "but when you get a new coach you kinda have to go through some struggles and that's a foundation in itself … I think there's only one way to go: up … and I believe that coach [Kyle] Capps is going to continue to build the culture."