The Goshen College race walking team continued its strong spring season at home in the event hosted in the Rec Fitness Center. On Saturday afternoon, seven Maple Leafs athletes competed and five of them achieved their best times of the 2014 season.
The first race of the afternoon was the women's event where Abigail Dunn took third place in a very competitive race with a time of 15:39.68. She was the Maple Leaf top finisher, ending up before her teammates Michelle Moyer, Kayla Gray and Hannah Bachman. Dunn is now ranked sixth in the national lists.
Michelle Moyer, a junior, finished the race in sixth place with a time of 16:43.85, almost 23 seconds better than her previous personal best. She is ranked 14th in the NAIA rankings.
Kayla Gray, a first year, finished in seventh place with a time of 16:53.21. She now ranks 15th in the nation. Meanwhile Hannah Bachman, a senior, debuted as a race walker with a time of 20:20.49, and placed tenth in the event.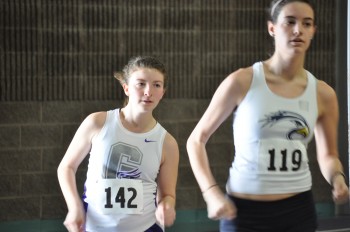 Moyer came to GC this year, transferring from Hesston College in Kansas. She is very happy with her strong race. "The race at Goshen was really great," she said. "Since I just started race walking, I surprise myself by how fast I can actually walk." She believes that her improvement comes because she ran at home.
"I thoroughly enjoyed race walking at home. Usually the race walkers have to go to separate meets than the other track athletes, so we don't have very many people we know cheering us on. It was very encouraging to see familiar faces around the whole track. I think it pushed me and helped me go faster," said Moyer.
Moyer started to run in November because she "wanted to see how race walking was." Of race walking, Moyer said, "I must say it is a lot harder and more complicated than it looks. You have to focus so much more on your form than with distance running."
Until now, Moyer thinks that the season is "going super well." She said, "I am at the point where I am improving a lot because I haven't race walked for very long. I have come a long way in the last two months. I love cutting time off each meet. It's a feeling that you can't match."
Moyer has high expectations for her first NAIA Nationals. "I hope to break 16:30 in the 3K. I am 13 seconds away. The next race will be nationals, so I hope to improve my personal record. It is a little challenging with spring break; it messes up training a little bit since I will be by myself," she said.
As for her teammates, Moyer is very happy with the race walking team. She said, "I love our group of race walkers. We have fun and can be goofy, yet we work hard at practice. It has been a delight to get to know the other race walkers better. They are all super encouraging, but also help to push me to become better."
The last event was the 3,000 meters men's race where junior Mitchell Brickson got the victory with a time of 13:45.41. With this time, he improved his personal best time of this season by more than 15 seconds. Brickson was the first GC race walker to qualify for NAIA Nationals and his improvement makes him the fourth fastest race walker in the current NAIA rankings.
Brickson's teammates Kolton Nay and Brad Sandlin, juniors, have already qualified to NAIA Nationals with B standard before the event, but in the race, both athletes improved their times. Nay got third place with a time of 14:24.43, while Sandlin got fourth with his personal best, 14:45.20. Nay and Sandlin are currently ranked fifth and seventh in the NAIA ranking, respectively.
Sandlin is completing his first season as a race walker as well as his first year at Goshen after transferring from Hesston College. "The season is going great because I finally learned how to shake my hips like a salsa star," he said. His teammates are helping him improve everyday as he states, "They have taught me so much!"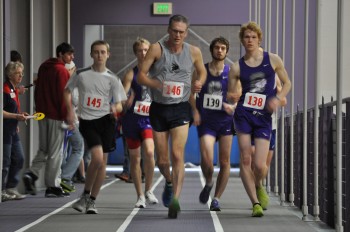 Sandlin also explained how he felt during the home event. "The race in Goshen was marvelous," he said. "It was weird because I felt like the race was done really quickly, but I guess that's because we are so used to walking in circles on that track day in and day out."
He also gave credit to GC students that went to support the athletes. "It was also great to have fellow teammates attend and cheer us on, as they normally go to meets without us," said Sandlin.
Once Sandlin qualified for NAIA Nationals he looked for different goals, always working hard but also with humor. He said, "My goal now is to walk so fast that I finally get carded… Doug Yoder tells me that I'll never get carded because my form is so conservative. Challenge accepted, sir!"
The next event for the Maple Leafs will be the NAIA Indoor National Championships in two weeks in Geneva, Ohio.
Dunn and Brickson will compete in the A standard, while Sandlin, Nay, Moyer and Gray will compete in the B standard.
Moyer said, "My hope is that everyone can get their personal record at nationals and hit their desired times."