Of the 88 international students at Goshen College, 65 of them are student-athletes. For international athletes who are searching for a spot on a college roster in the U.S., the application process varied greatly.
According to Matija Margetic, a sophomore from Croatia on the tennis team, his most important step in being recognized was getting into contact with an international sports agent.
"I ended up hiring an agent because I had already seen an agent work with some of my friends, which was really, really helpful," he said. "Okay, I cannot get any responses [alone], let me do that. … Within three days I got a response from Goshen."
Sude Aytekin, a sophomore also on the tennis team, had a different recruitment experience: "I didn't have an agent. I didn't have anyone," she said, "and I was … emailing every DI and DII school ever. I sent [over] 1,600 emails."
Blanka Bodo, a freshman tennis player from Hungary, said, "I used easygotousa.org to get into contact," which her teammate Aytekin jokingly said, "sounds like a scam."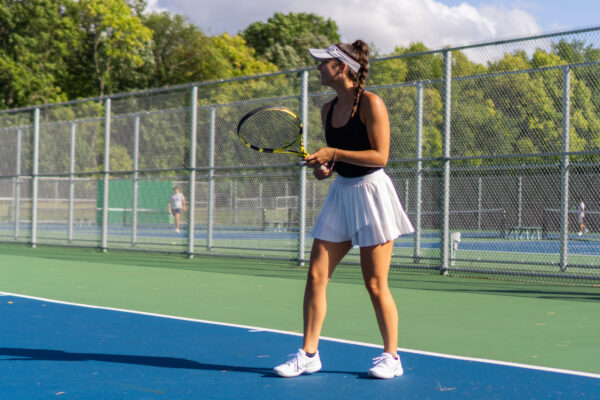 Seth Smith Kauffman for The Record
Feeling limited in her home country of Turkey, Aytekin saw the opportunities GC could bring — not only athletically, but also professionally.
"Back home the education in good universities is good," she said, "but if you're not in one of the best universities it's not worth the whole effort. … After you graduate, finding a job is really hard. We have employment issues as well, so if you have a degree in the U.S., it's easier to find jobs."
Giacomo Padilla is a junior baseball player from Italy, and his path to GC was paved through an agency in Florida and an email exchange with Justin Grubbs, assistant baseball coach at GC. Padilla's future with baseball was limited in Italy and his passion was waning. Baseball in Italy is seen as a club sport and schools don't have official teams. 
"I tried to keep playing baseball," Padilla said, but in Italy, it was "not an option. … We don't have high school teams. Back home it's just private club [teams]."
Vicky Naylor, a junior goalkeeper for the women's soccer team, has found something she values in GC and had never found in sports back in England: community and family.
Naylor fought through several injuries during her first two years at GC, many of which could have ended her career. 
"My freshman year I came in with the torn quad," she said. "It got better and I immediately got a concussion, and then I tore my elbow the first time. It got better, but then in the second year, I tore my elbow and I needed surgery."
During these injuries and low points of her career, she credits the sense of community from teammates and coaches for her athletic performances today.
"Knowing I had that support system of a team around me helped significantly," she said. "I'm not going to say I didn't struggle — I struggled a lot with mental health — but having that team of other student-athletes who are international and having my coaches' support … I don't think I would have been able to get through it as well as I did."