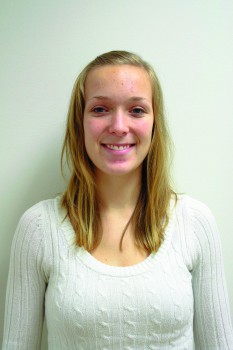 By Lexi Kantz, Contributing Writer
Erin Helmuth, a senior math education major, is a racewalker for the Goshen College women's track team. Helmuth shared why she loves track and describes some of her favorite racewalking moments.
Q. When did you start running track?
I actually did not start running track until my sophomore year of college because my high school did not have a track program. I initially was going to try and run the marathon in track, but ended up giving racewalking a try with a couple other teammates. I had not even heard of racewalking until I came to Goshen, but I found it kind of fun and challenging, so I stuck with it.
Q. What drives you to do track?
I like exercising with other people because it's fun and helps motivate me. I played sports all through high school, so I enjoy the team aspect of it as well. Also, since I've had some success with racewalking, I am motivated to improve my time and do well at Nationals.
Q. What do you love most about track?
Track is a good combination between an individual and a team sport. There is definitely a team aspect to it that is lots of fun and it's cool to get to know my teammates throughout the course of the season. But there is also the individual component where you are out there competing against others and trying to improve every race.
Q. What do you think about when you race?
I set a goal pace before each race, so during the race I am just concentrating on sticking to that pace each lap. I try to be aggressive and not save too much so that at the end of the race I will know I gave it everything I had.
Q. Describe your favorite moment in track here at GC.
One of the highlights was getting runner-up at Indoor Nationals last year. Going into the race, I knew I should be in the top three, and I ended up placing second and walking a personal best time. It was great to stand up on the podium and know that all my hard work had paid off.