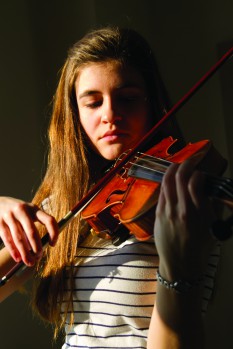 By Christina Hofer, Arts Editor
Seven students and the Goshen College orchestra, under the direction of Christopher Fashun, will collaborate their musical talents in the 53rd Annual Goshen College Concerto-Aria Concert.
The concert, which will take place this Saturday evening, will feature Josh Yoder, a junior (violin) and Chelsea Wimmer, a senior (viola); Hillary Harder, a sophomore (violin); Stephen Graber, a sophomore (tenor saxophone); Sophie Lapp, a senior (piano); Rachel Mast, a senior (mezzo soprano); Madeleine Ruth, a junior (piano); and Emily Grimes, a junior (soprano).
To have the privilege of performing at the concert, students had to audition in November with one musical selection, competing against a group of about 20 other Goshen College students.
The music faculty judged the auditions and picked the winners based on their performance at that audition.
"This year we had quite a hard time selecting," said Fashun. "There were such strong auditions."
To include more of the strong auditions, this concert will feature one or two more soloists than in previous years. It will also include a varied repertoire.
"In terms of style, we go as early as Mozart…all the way to the 20th century," Fashun said. He recognizes that both the selections and the amount of music that will be performed have made the process of preparing the concert challenging.
The orchestra, too, has been under immense pressure to prepare the music. Because of their commitments to learning music for Festival of Carols, they had about a month to fine-tune the music for the Concerto-Aria.
"What I hope that everybody in the orchestra realizes, especially for this concert, is how important their role is," said Fashun. In addition to their accompanying role, the orchestra will also open the concert by performing a selection of their own.
Like Fashun, the seven performers understand the importance of the orchestra. Although this is the first year any of the seven performers will be featured in the Concerto-Aria, many of the performers have played in the orchestra.
"I love to play in the orchestra," said Wimmer, who has been a member for four years. "But the Concerto-Aria Concert has always been unique in how meaningful it was to the soloists — how much they cared about the music, how excited they were to perform and how grateful they were to have the whole orchestra supporting them."
Although Graber has only been playing in the Goshen College orchestra for a year, he is excited for the opportunity to perform alongside them. "I had heard (from other students) that it was such an incredible experience," Graber said.
Like many of the other performers, Graber is looking forward to performing for his family and friends so they can see what he has been working on when away from home. "Musicians practice a lot more frequently than we perform," said Graber. "I feel like my friends and family rarely get to hear me perform."
Students like Mast and Ruth are eager to share their work with others after months of preparation. "I've basically worked on this piece for two hours a day since September," said Ruth.
Yoder has also put in countless hours practicing with his duet partner, Wimmer. Despite the hard work, Yoder said, "It all pays off in the end product and the learning along the way."
But what might be most valuable for the seven performers is the chance to perform with an experienced and talented orchestra.
"Performing with an orchestra is a musical experience like none other," said Fashun, referring to the three times he has previously done so. "Even if they do go on to be professional musicians, they may not have the opportunity to perform with an orchestra…the experience, in some ways, is a chance of a lifetime."
The 53rd Annual Goshen College Concerto-Aria Competition Concert will be held on Saturday, Feb. 9, at 7:30 p.m. in Sauder Concert Hall.