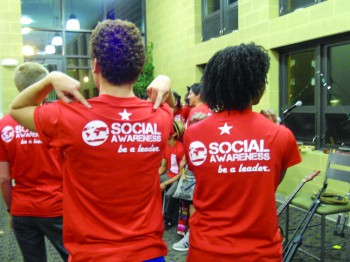 This year's annual Social Awareness Event was held on Sunday night in the first floor connector. Juan Moya, a junior, organized the event with the intent to create awareness by sharing poems, songs and personal stories.
The event was meant to create a time to share about different social justice issues on a personal level and a space for students to come listen to their peers' stories.
Moya, who first envisioned the event last year as a time to share stories about immigration and racism, opened this year's event to a range of issues including environmentalism, women's concerns and acceptance of different groups of people.
"I thought it was important for issues to be brought up by people from different backgrounds," said Moya. "I had the intention that there would be a diversity of issues brought up by a diverse group of students who shared what was important to them."
Moya's band, La Republica, opened the evening's program with a collection of songs highlighting the need for change, understanding and love.
Speakers from all walks of life—including a variety of international students, American students, non-Goshen College students and faculty—held the mic to share their own piece.
Some shared experiences from their own life experiences. Josh Yoder, a sophomore, shared a story from his SST experience about how he learned to become more tolerant and loving of people who have lived differently than him.
DaVonne Harris, the resident director of Yoder Hall, read a poem by Langston Hughes entitled "I, Too, Sing America."
After sharing their stories or experiences, participants were asked to give a "call to action" for the audience.
For some, this meant giving information about an organization that could aid a given social justice issue. For others, it meant encouraging audience members to become active listeners.
The event was a direct opportunity for students to listen and understand other peoples' stories.
Sharing and listening, Moya says, creates a space to appreciate each other's art.
"I think of art has having no boundaries," said Moya. "It can approach anybody. So can these issues. It's like a bridge to connect people or ideas."