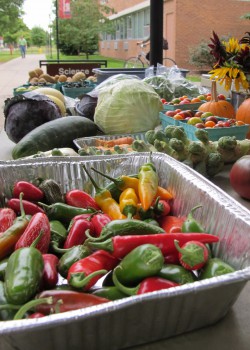 Green Zebra, Chez Excellent Yellow and Black Krim are just a few of the new arrivals on campus this fall. These are not strange student names, but rather those of fresh heirloom tomatoes picked from Goshen's own backyard, Merry Lea's Sustainability Farm.
Students, faculty, and staff can purchase these tomatoes, along with other by-the pound or by-the-pint produce, every Friday from 2 to 5 p.m. between the Science Hall and Wyse Hall.
On a recent sale day, two interns, Amy Hartzell and Jon Templin, stood at their outside booth ready to reveal the names, tastes and prices of the bounty they brought from the Agroecology Semester of the Merry Lea Environmental Learning Center.
"It's great that Merry Lea markets their produce on campus now," said Jenica Corbett, a sophomore. "It encourages trade from the grass roots and provides healthy food at decent prices for both the student body and the community."
Marketing their product beyond Merry Lea proves a new adventure for Dale Hess, professor of botany and agroecology, and his crew. Fresh vegetables are delivered to The Window in downtown Goshen and Kieth Stone Place in Cederville, Mich., in addition to campus mini fridges.
"This is the first year we've had a bigger garden," Templin said. "The program has evolved and we're expanding our green houses."
The Sustainability Farm extends its season with hoop houses — greenhouses covered in poly-carbonate plastic rather than a higher grade material. This allows planting to continue later in the fall, and begin earlier in the spring before agroecology students arrive.
"Students like to eat what they grow," said Hess. "Amy (Hartzell) and I start planting in February and March. Without her, a lot wouldn't get done."
Merry Lea's agroecology program provides undergraduates with an understanding of ecosystems and agricultural production, as well as social and economic systems through hands on management and decision-making processes during the summer.
Merry Lea also offers an environmental education graduate program, which Hartzell's husband is pursuing.
While graduates and undergrads dig into their books and the earth, interns outside of the agroecology program give care to some of the smaller details of spring and fall, which can be vital to a good harvest for crops like heirloom tomatoes.
Heirlooms like Red Krim, Chez Excellent Yellow and Green Zebra challenge consumers to imagine beyond typical red tomatoes and try something outside of their supermarket experience.
"[Big farmers] only grow the [tomatoes] that are easier [to grow] and produce more fruit." Templin explains. "Heirloom tomatoes produce less fruit, but have much more flavor and provide for a diverse diet."
Besides sharing the bounty of their crop, Merry Lea also hopes to connect more with the main campus of the college.
"A lot of people are not familiar with Merry Lea and what's going on there," Hess said, "This is one way to give people a chance to be involved who don't have the occasion to drive down."
Students are responding to this new opportunity Merry Lea offers them.
Templin estimates that in the second week of sales ninety percent of their customers were students, compared with only half of customers being students the first week before the semester started.
Templin notes ground cherries, fruit and broccoli as hot items. Familiar favorites are not the only products bringing in cash flow, however.
"I've been surprised that people have been trying different things," Templin said.
Beside green-stripped and black-bottomed tomatoes, other rare crops such as Opal and Lemon Basil, endive buds, Swiss Chard and three variants of potatoes provide limitless combinations in the kitchen.
"I find myself trying things I never thought I would have," said Hartzell, who has had to help find creative dishes to use up their crop at Merry Lea.
"We'll be here," said Hartzell, "until it gets too cold or we run out."
–By Natasha Weisenbeck