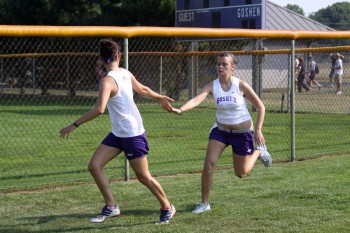 Written by Kate Friesen
For the first time in the history, both the men's and women's Cross Country teams placed first in Goshen College's Hokum Karem race on Saturday.
On this hot, humid day, the women finished one point ahead of Trine University with ten points, and the men ended two points ahead of Grace College with 11 points.
The Hokum Karem is run in a relay format, which differs from other cross-country races. Runners race in pairs by alternating miles.
Women run six miles and the men's race goes on for ten. Scores are figured by the placement of the first three finishing pairs.
"We performed well at the Hokum Karem," said Doug Yoder, head coach. Our first place pair of Leah Thill and Jenica Corbett was key to our win. They ran well the entire race." The women's duo of Thill, senior, and Corbett, sophomore, lead the women and completed the race in 39:22, the only time under 40 minutes.
"I felt competitive…it helped to chase somebody down, and Leah helped to keep it close," said Corbett. "The second mile felt relaxed, and the fans helped a lot."
The duo had been running 40-50 miles a week. "It felt like we were really prepared from summer," Thill said.
"We return all of our top runners from last year," Yoder said. "Many of the ladies have greatly improved and we are looking for an overall higher finish at the conference meet. We are rehabbing some injuries from before the season started and will only get stronger as the season progresses. We return 6 of our top 7 guys from last season. Our ultimate goal is to make it to the NAIA national championship meet."
The men were lead by first-year team Daniel Zelaya and Jordan Smeltzer who placed second with a time of 52:22. "The first few miles were relaxed, but as the heat progressed, simple mechanics like breathing got hard." said Zelaya. Smeltzer added that "It felt good… as freshmen, we're getting used to it. We're going to have a good next four years."
Goshen students will have another chance to come out to support the cross-country team at the conference meet, which will be held at Goshen on Nov. 5.