RETRO Record: 1958
Author: • Sep 27th, 2012 • Category:
arts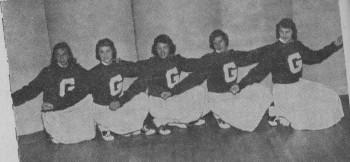 Nov. 7, 1958: Goshen College's cheerleaders showed off a formation—as well as their matching "G" uniforms. The 1958 cheerleaders were, from left to right, Anne Detweiler, Marian Smith, Migs Miller, Ruth Steiglitz and Lois Swedberg. Though the 1958-1959 Record issues only mentioned Goshen College cheerleaders twice, the year seemed to be a busy one for the college's cheering section. In the fall, Goshen completed its first season of intercollegiate men's soccer; and in the spring, the college hosted a basketball tournament.
Becca Kraybill
Becca Kraybill is the fall Editor-in-Chief of The Record. She is a fourth-year English Writing major and enjoys waving to babies in the grocery store.